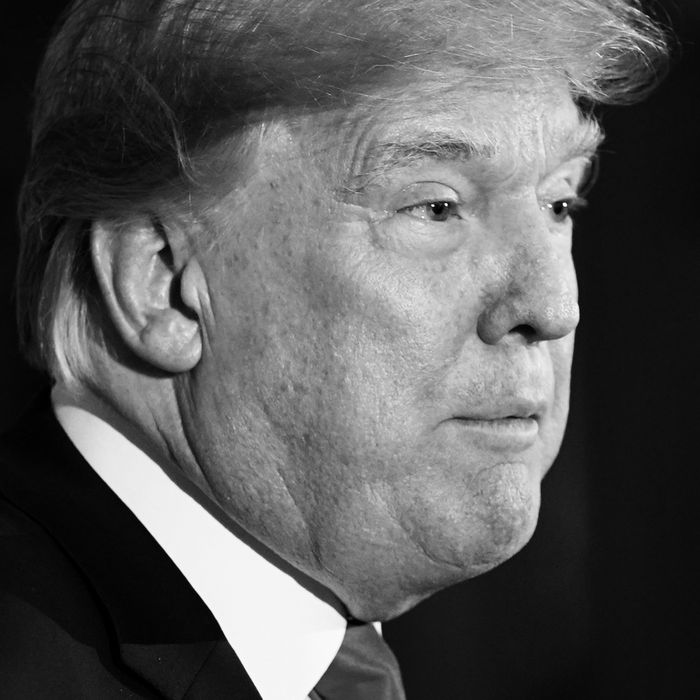 Donald Trump.
Photo: Mandel Ngan/AFP/Getty Images
On Sunday night, adult-film actress Stormy Daniels gave her highly anticipated 60 Minutes interview, in which she shared salacious details about her alleged 2006 affair with Donald Trump. And while the president may not have publicly responded to the interview yet (which, to him, means tweeting about it), he reportedly can't stop talking about it privately, according to the Washington Post.
The Post notes that Trump was one of the estimated 22 million Americans who watched Daniels's 60 Minutes segment on Sunday night. Since then, the president has reportedly been telling people that her allegations are a "hoax." A source told the Post that Trump doesn't think Daniels sounded credible in the interview. To prove his point, he apparently keeps telling people that he doesn't find Daniels attractive.
The president has been continually asking those around him whether the scandal is hurting his polling numbers, and he also talked about it at the Mar-a-Lago club this weekend with club members. Another source told the Post that Trump thinks the scandal will "blow over."
But White House staffers don't appear to be so sure about that. Per the Post:
Inside the West Wing, senior officials believe Daniels's account to be largely credible and consider it a serious news story that could deal real and lasting damage to the president, according to one of Trump's advisers. 
Trump apparently thinks his supporters will stick by him — just like they did after his Access Hollywood tape — but some friends told the Post that the scandal is putting a strain on his marriage to Melania. On Monday, the First Lady's spokesperson responded to the interview with a request that the press keep their son, Barron, out of news stories about it. Melania also did not return to D.C. with her husband, instead deciding to stay at Mar-a-Lago for what is being called a previously scheduled "spring break" vacation.