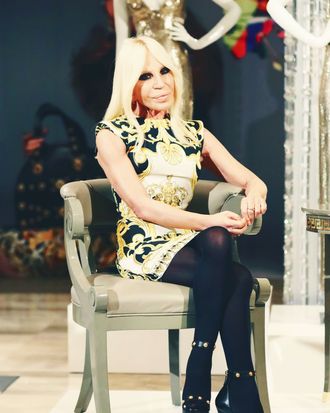 Donatella Versace.
Photo: Neil Rasmus/BFA.com/courtesy of BFA for Saks Fifth Avenue
Months after '90s supermodels Carla Bruni, Claudia Schiffer, Naomi Campbell, Cindy Crawford, and Helena Christensen all reunited on the Versace spring 2018 runway, the fashion world is still talking about the moment that "broke Instagram."
On Tuesday night, Ms. Donatella Versace herself sat down with Instagram's director of fashion partnerships, Eva Chen, at Saks Fifth Avenue to relive the now-iconic moment. In the audience were loyal Versace followers like Lauryn Hill's daughter Selah Marley and Real Housewife Dorinda Medley.
Saks has supported Versace since the very beginning in 1986, when Gianni made his American runway debut at a Studio 54. And the affection is mutual. When Donatella visited New York as a young university student, Saks was the first store she went to, with her brother's credit card in hand.
Below, we pulled the best sound bites from Donatella's conversation with Chen, as well as our own brief discussion with Ms. Versace beforehand. We made the mistake of assuming she had never been to Brooklyn before, but Donatella Versace is with it.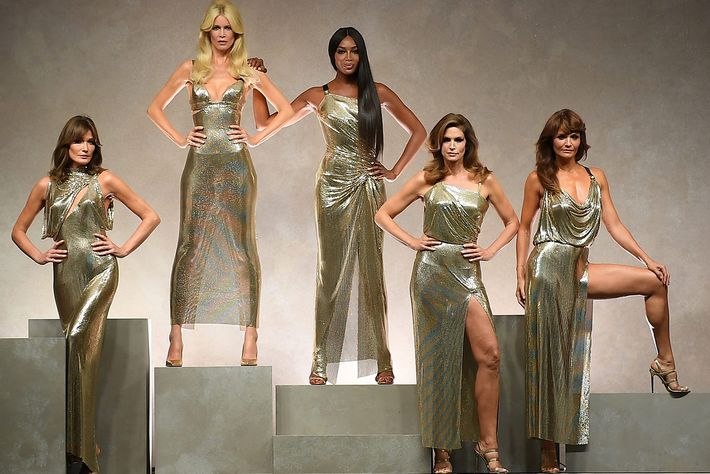 On Versace's ultimate supermodel reunion:
"The best thing was that the rest of the cast didn't know [about the finale] until the last moment. Then one by one, Naomi, Helena, Cindy, Carla — they walked by them to get into position. Everybody was crying, clapping. It was so good to see the respect they had for these iconic girls. Afterwards, we had dinner in Gianni's apartment. There was music. It was a happy celebration."
Her favorite trend from the '90s:
"Leggings."
Trend from the '90s she thinks we can leave behind:
"Big hair."
On millennials:
"They like that Versace tells a story. We tell the story of a brand that isn't afraid to take risks and break barriers, like Gianni did. A brand that isn't afraid of criticism. Gianni's fashion was not easy or safe. It was like it or leave it. This kind of courage is how millennials think today."
On the next generation of supermodels:
"After Naomi [Campbell] and all those girls stopped working, for a long time there wasn't this kind of supermodel. But now with girls like Gigi [Hadid], we're seeing the same thing. They're different in some ways, but not that different. These girls have personality and their own opinions. I talk with them when we do fittings, and it's just like it was before."
On New York City:
"It was love at first sight for Gianni and me. I love the energy and the clash of cultures that are here. There's always something happening in different parts of the city. Now everybody's in Brooklyn, for example. So we have to go there and see what's going on in Brooklyn."
On visiting Brooklyn:
"Of course [I've been to Brooklyn]. I was there on Sunday! I go always. We did a few shoots for perfumes and fragrances in Brooklyn. It was so interesting and amazing."
On using Gianni's credit card at Saks:
"This was the first store I went to when I arrived in New York. I bought a lot. I used my brother's money. He was like, 'What did you do?' And I said, 'You told me to go, so … '
On her very opinionated dog, Audrey:
"She doesn't want to be called a dog, but she's a dog. To me, she's a model. She's at rehearsals, shows, and fittings. She has an opinion on everybody. She's very selective. She barks [when she likes something.] And if she doesn't like something, she turns her head. She grew up around models. I think she understands by now. She loves the camera."
On joining Instagram:
"The thing I like about Instagram is that it's given me the possibility to really show who I am. Many people think of me as this cold person or not accessible. I'm very accessible. I like to have a good time."