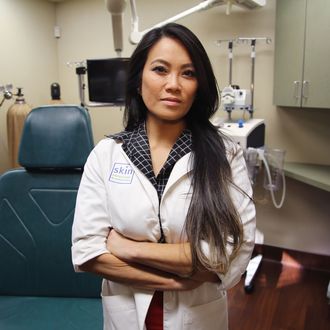 Dr. Sandra Lee.
Photo: Barcroft Media/Getty Images
TLC's show lineup is about to be a lot more … disgusting. Beginning this summer, Instagram-famous Dr. Pimple Popper (a.k.a. Dr. Sandra Lee) is taking over the small screen with a new reality show. Those disgusting Instagram videos that you can't stop watching for some reason may now become your guilty TV pleasure.
The show comes as a result of Lee's one-hour special on the network, Dr. Pimple Popper: This Is Zit, which aired back in January. The premiere performed so well that now we get to watch Lee "poke, prod, and squeeze" her way through a one-hour episode every week, according to TLC's press release.
The best part of all this news? TLC is currently casting for the show, which means your skin could become famous! I mean, who doesn't want puss squeezed out of them on national television?