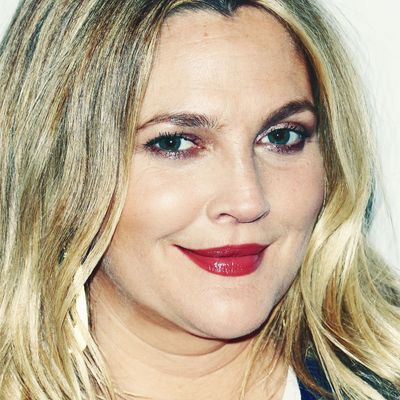 Drew Barrymore.
Photo: Jim Spellman/WireImage
Like Cardi B, Drew Barrymore would also appreciate it if you just let her fat in peace, okay?
During an appearance on The Late Show With James Corden on Wednesday night, Barrymore explained that although she follows a strict diet and training regimen while filming Netflix's Santa Clarita Diet, during the show's hiatuses, she enjoys "pigging out." This has apparently not gone unnoticed by her mother, daughter, or one woman who stopped Barrymore when she was leaving a restaurant with her friends and all their kids. As the actress told Corden:
She's like, "God, you have so many kids," and I go, "Well not all of them are mine, I just have two." And she's like, "Well, and you're expecting, obviously." And I just looked at her and go, "No, I'm just fat right now." And I walked out of the restaurant and I was like, "Oh man, that is rough."
Oof. First of all, a quick reminder to never ask a stranger if they're pregnant; it's none of your business. Also, even though Cardi B did (most likely) turn out to be pregnant after imploring her fans to let her "fat in peace," Drew says she's just pulling a Denzel:
I heard Denzel Washington does this and I don't know, because I just want to believe it, I don't want to know it's not true. But he just enjoys his life and then pulls himself back together when he's doing movies and looks amazing. So I'm giving it the full "Denzel," even if that exists or not, and I let myself go.
Watch the full interview below: