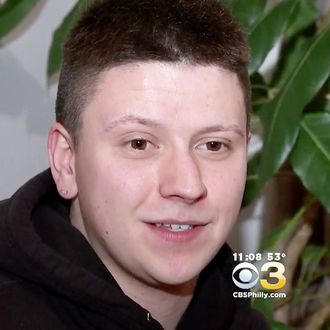 Kenneth Bachman.
Photo: Courtesy of CBS 3
The American literary canon includes several notable road narratives: On The Road, The Electric Kool Aid Acid Test, and, now, the story of this drunk guy who accidentally took a $1,600 Uber from West Virginia to New Jersey.
CBS Philly brings us the tale of Kenneth Bachman, who was partying with friends in Morgantown, West Virginia, on Friday — until he wasn't:
"Basically, I kinda just blacked out. The last thing I remember was being at the bar and then I just woke up in the Uber next to an older dude telling me I was an hour out from Jersey."
Bachman, who had accidentally ordered an Uber XL, ended up with a total Uber bill of $1,635.93. According to Google Maps, the trip from Morgantown to his home of Sewell, New Jersey, is over 300 miles long and about a five-hour car ride.
And what was his ultimate reaction to the situation?
"I was just like … that's crazy!"
That it is, Kenneth, that it is.