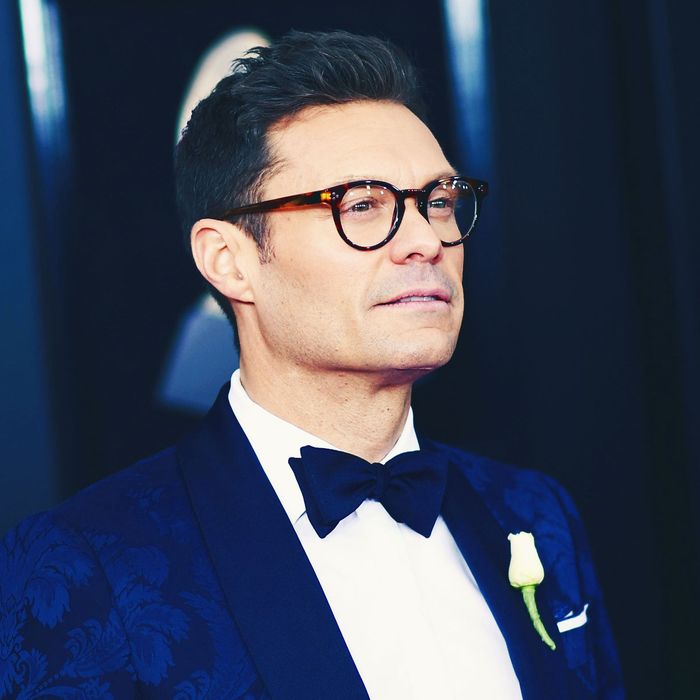 Ryan Seacrest.
Photo: Dimitrios Kambouris/Getty Images for NARAS
As an attempt to sidestep any potential on-screen confrontations between celebrities and host Ryan Seacrest, who's recently been the subject of resurfaced sexual-misconduct allegations, E! producers reportedly asked NBC to delay the Oscars red-carpet preshow by at least 30 seconds, Deadline reports.
Seacrest was accused of years of sexual abuse and harassment by his former wardrobe stylist, but despite the accusations, he's still hosting tonight's Live From the Red Carpet. According to earlier reports, E! Network has been panicking about the pre-Oscars show, hence this preemptive action.
"The plan being considered is to mainly ensure plenty of time to either cut to [co-host] Giuliana [Rancic] or to pull the plug altogether unnoticed if an on-camera encounter with Ryan goes into tricky territory," a source told Deadline.
Just this week, an E! producer claimed she was fired for letting actresses talk about the Catt Sadler gender pay gap during the Golden Globes red-carpet show with Seacrest. Reports also emerged this week that top publicists told their clients to stay away from Seacrest on the red carpet.
As hard as they may try, though, E! won't be able to shutdown all discussion of the allegations against Seacrest on the red carpet. According to executive producer Rob Silverstein, the co-hosts of NBC's Access Hollywood are planning to bring up Seacrest in every interview.
Update: E! has since denied the 30-second delay. "It's business as usual. As always, we tape multiple sources of content simultaneously to deliver the best possible show, and there are often brief delays between interviews," a network spokesperson told TheWrap.