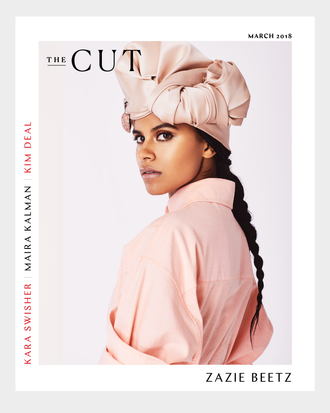 Photo: Colette Aboussouan. Styled by Danielle Nachmani.
My favorite part of living in New York has always been the opportunity to study strangers at close range. I love to catalogue the small clues my fellow commuters give about who they are and where they are going. I like to imagine their weird habits, what they are listening to on their phones, or what their parents might look like. I love bodies and all that they betray: abandoned ear piercings, the shine of a fresh blow-out, the bleary slump of some one who's been up all night. I feel like I'm in a portrait gallery where the exhibit is always new.
When I lived on the Lower East Side in my 20s, the fashionable women of the neighborhood were my aesthetic weathervane. I didn't have to know someone to be changed by her look. I forged my own appearance based on seeing a woman cut her bangs just so, or wear a vintage men's Burberry raincoat — whatever the micro-trend of the moment happened to be. A little of this, a little of that. I guess that's what "influencers" have accomplished recently for their millions of followers on Instagram. But there's something nostalgic about unfiltered, chance encounters on the streets of New York. It's real "street style," you might say.
The women on the Lower East Side then were ahead of the curve, and by closely reading subtle changes in their dressing, I could predict how trends might travel. Sometimes I thought of myself as a forecaster with no one to report to.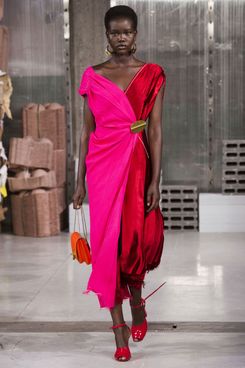 I still keep an eye out for well-dressed city dwellers. The other night, while waiting for the train, I was looking at online photos of a very special, sexy Marni dress from the recent collection in Milan. When I looked up, I saw a woman with thick, cascading black hair standing to my left. She was so pretty. Not the way a model is pretty, just pretty in the way your prettiest friend might be pretty. She wore a Max Mara coat belted gently and left open at the neck. Her tall black boots had a casual slouch and a tapered wooden heel that gave her a sturdy but graceful stance. Her long skirt could have been Lemaire or maybe Cos. She wore all black, which wasn't particularly remarkable, but she had such composure. Everything about her outfit was flattering, yet easy. There's something about seeing a "real woman" in front of you that is so much more appealing than any magazine page could ever be. I looked back at the picture of the Marni dress. All of a sudden I wanted to feel pretty again.
It's not like I was ever trying to feel ugly per se, but for a while now I've been prioritizing "interesting" over attractive. Wanting to look pretty almost felt too simple, like the lowest level of Maslow's fashion hierarchy of needs. There's a million reasons for tastes swinging in that direction, but I'll pin it on Phoebe Philo's reign at Céline. After the sex-positive American Apparel years, it felt fresh to wear thick turtlenecks and sneakers, or clothes that straight men might not appreciate. Maybe with Philo leaving Céline I'll want to move on, too.
It feels slightly taboo to think about wanting to be pretty when we've just emerged from the darkness of the #MeToo explosion. Yet my urge has less to do with other people and how they see me than with something more personal: With spring right around the corner, I'm ready to be swept off my feet by something lovely. I want some joy. I've been wearing clothing that felt like armor, suddenly I want to feel a little vulnerable again. All I know for sure is that I want that Marni dress: half red, half pink, clasped at the waist with a gold oval … it's sultry, in a smart, personal way. Like the woman on the train.
Love,
Stella
On Zazie
: S

tephen Jones for Marc Jacobs 

Turban, price upon request, and

Marc Jacobs

Top, $375 at 113 Prince St; 212-343 1490.