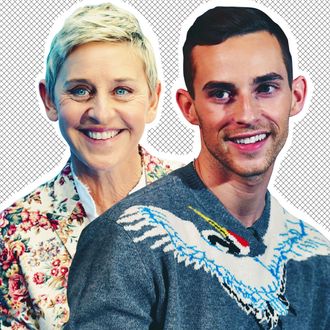 Ellen, Adam Rippon.
Photo: Getty Images
The Olympics' skating sweetheart Adam Rippon will tentatively team up with America's prankster sweetheart Ellen DeGeneres to produce reality TV.
A source told "Page Six," "He'll be producing a reality show with Ellen. The details are 'TBD,' but they are partnering." Another source said that Rippon will appear multiple times on DeGeneres's eponymous daytime talk show. Rippon's rep did not respond to "Page Six'"s request for comment.
If the rumors are true, it would be in line with Rippon's rise throughout the Winter Olympics. The skater made himself an icon for his openness about his sexuality, refusal to meet Mike Pence (at first), and, oh yeah, his ability to skate. Hopefully, the show will be a much better version of The Bachelor where Ellen plays matchmaker for Adam.