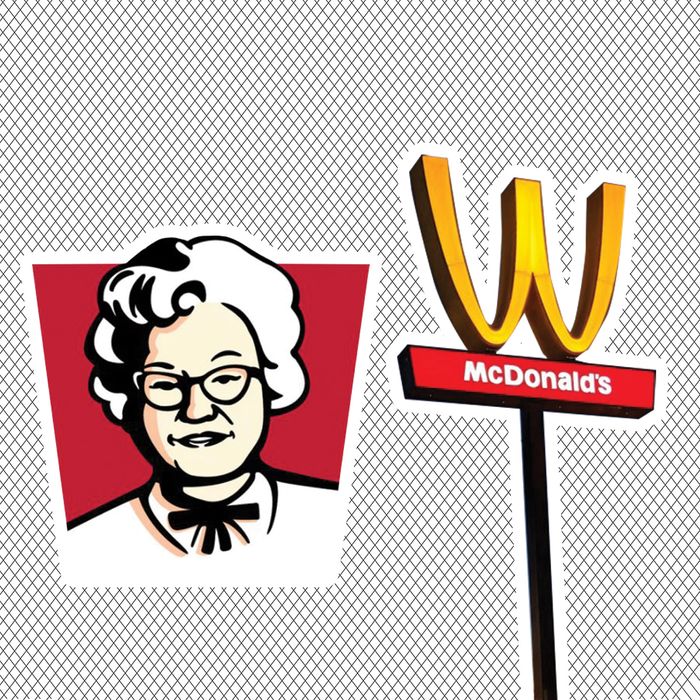 Ladiiiies! Today is International Women's Day, and you know what that means: We get to enjoy being shamelessly pandered to by brands.
Sure, women in the United States and across the world are still struggling with a huge wage gap, a lack of maternity benefits, and there's the ever-present threat of sexual misconduct, but today, major corporations bravely stand up and say, "Yeah, but what if our mascot was a girl?"
Here are some of the most embarrassing stunts so far:
McDonald's. Sorry, *WcDonald's. WcDonna?
To celebrate International Women's Day, McDonald's is flipping its famous golden arches from an M to W for ONE day in ONE physical location, and flipping it on all of its digital channels. Okay!
The move is supposed to be "in honor of the extraordinary accomplishments of women everywhere," McDonald's chief diversity officer Wendy Lewis told CNN.
Maybe next it could pay its workers a living wage, but baby steps, I guess.
KFC
KFC has emerged as a true heavyweight in the world of corporate feminist stunts. First, it gave us Reba McEntire as the first female Colonel Sanders, and for International Women's Day, KFC Malaysia is introducing us to Claudia Sanders, Colonel Sanders's wife.
"To all women of KFC and the world out there, we would like to say that your future is always bright, equal, safe and rewarding. Keep inspiring us and impacting lives, and thank you for all your hard work and contribution to our community, family, and this organization," said Merrill Pereyra, chief executive officer for the Restaurant Division of QSR Brand which oversees KFC in Malaysia.
The company has not commented on whether Claudia Sanders and Reba McEntire Sanders are a couple.
Old Navy
Old Navy, the popular purveyor of peasant blouses and perpetually saggy-bottomed jeans, celebrated International Women's Day with a "flower empower" installment. In New York City, the company decorated the city's only five statues of female historical figures (Eleanor Roosevelt, Gertrude Stein, Golda Meir, Harriet Tubman and Joan of Arc) with flowers, and also gave the Fearless Girl statue a flower cape.
Per Yahoo! Finance: "Composed of 65% female leadership team (vice presidents and above), Old Navy is no stranger to the power of women. Gap Inc. is the only U.S. retailer to make the 2018 Bloomberg Gender-Equality Index and was the first Fortune 500 company to report equal pay for equal work in 2014."
Admirable accomplishments to be sure. Now if only they paid a little more attention to the working conditions of their Bangladeshi factory workers.
MTV
Like WcDonald's, MTV also turned its oppressive, patriarchal M over into a strong, feminist W. And that's not all! According to Billboard, "the network will also feature new programming, with an all-female-cast episode of Nick Cannon: Wild 'N' Out, and a 24-hour all-female music video broadcast on MTVU, MTV Classic, and MTV Live."
Wow, I feel more empowered already.
We will continue to update this post with embarrassing brand stunts throughout the day, or until we become so frustrated we end up screaming into a pillow until we pass out.