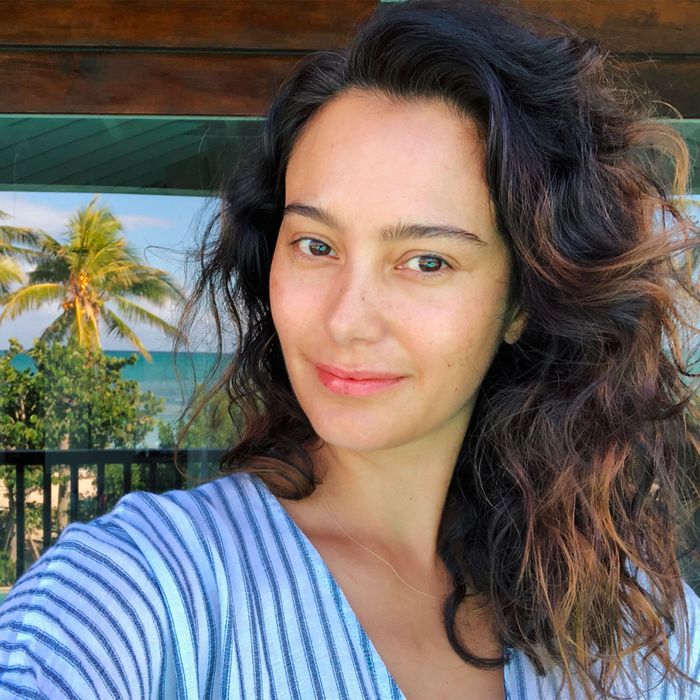 Emma Heming Willis.
Photo: Emma Heming Willis
Do you ever see someone on Instagram and think "Why is your skin so good?" We do, so we started asking. Welcome to Why Is Your Skin So Good, a new series.
Emma Heming Willis has flawless skin, but she's still looking for product recommendations. "After two kids and not a lot of sleep, I have these dark eye circles. So if you know an eye cream that helps, tell me!" You may know Emma because of her actor husband, Bruce, or her career as a model, but she's also a mother, an entrepreneur, and the CEO of vegan skin-care line CocoBaba.
Willis told the Cut that her No. 1 beauty tip is getting sleep, but between work and kids, sleep isn't always an option. The next best thing is drinking water. "I see such a difference in my skin when I refill my water bottle all day long!" And then there are the products she relies on, some of which are very luxe. Read on for the list.
"After splashing my face with cold water first thing in the morning, I spray this all over."
"This is all-natural and fragrance free, which is why I love this brand. I tap it into my skin and let it set."
"I use my coconut oil. This is great on my neck and décolletage because we should not forget these areas."
"This has hyaluronic acid, which is so important. I pat it in and let it set. It smooths out my face."
"Right now this is my favorite for hydrating when I didn't get enough sleep."
"In the winter my skin is so dry. This really makes your skin glow, like the name says."
If you buy something through our links, New York may earn an affiliate commission.