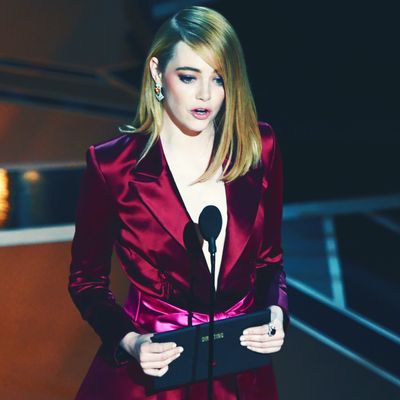 Emma Stone presenting at the Oscars.
Photo: Mark Ralston/AFP/Getty Images
During the 2018 Oscars on Sunday night, last year's best actress winner Emma Stone took the stage (in pants!) to present the award for Best Director. But instead of merely announcing the names, Stone took a moment to call out the overwhelmingly male-ness of the category — and acknowledge the sole female nominee, Greta Gerwig.
"These four men and Greta Gerwig created their own masterpieces this year," Stone said on the Oscars stage, receiving overwhelming applause and cheers in response.
Of course, Stone's searing comment wasn't the first time a woman called out a category for lacking female representation at this year's Academy Awards. Earlier in the ceremony, Sandra Bullock said in reference to Mudbound's Rachel Morrison in the cinematography category, "Here are the four men, and the one trailblazing woman, who are nominated for achievement in cinematography."
But the move called back Natalie Portman's now-legendary shade at this year's Golden Globe awards. While also presenting the best director category, Portman delivered a line that will go down in Golden Globes history: "… and here are the all-male nominees." But it looks like Stone will now be joining Portman in awards shade history.