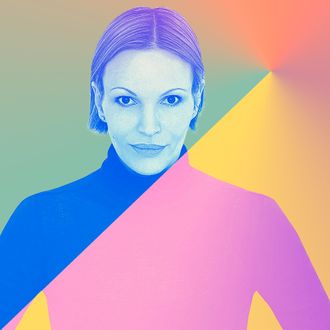 Photo-Illustration: Stevie Remsberg
Marcia Kilgore does not understand uncomfortable clothing.
"Underwire bras are a plot against women!" she laughs. "And will someone please tell me why panty hose still exists? High heels are so ridiculous. Watching Princess Kate in heels trying to navigate the grass at a polo match, it's just so dumb. It's concubine-ish."
This sentiment would explain why Kilgore created the FitFlop, a line of ergonomically comfortable shoes that reportedly have also been known to smooth cellulite. Not that Kilgore shuns style in her quest for comfort. Dressed in Dries Van Noten, Comme des Garçons, or Nili Lotan, and sporting a unique haircut only she can pull off, Kilgore exudes chic. She also has the smile of someone who's up to some kind of mischief. But that's just her brain's default speed-of-light pace, conjuring up the next beauty or fashion conundrum to solve.
FitFlop isn't the only product you've heard of that Kilgore created. She launched Bliss Spa after a bad experience getting a facial from a judgmental aesthetician. Her vision: a spa where you never get scolded for the state of your skin. Working as a personal trainer by day, she crash-coursed her way to an aesthetician's license, then set up shop in a rented room in the East Village. There, clients were treated like equals (be they NYU undergrads or Madonna) as the Canadian expat remedied their complexions in her affable tone. Within a year, she had a 16-month wait list. Soon enough, every other spa was rethinking its business plan and reconsidering its bedside manner.
But Bliss was just an early chapter in the Legend of Kilgore. She sold it to LVMH in 1999, then followed it up with FitFlop and the pun-filled bath, body, and beauty line Soap & Glory (which Boots bought in 2014). She recently created Foam & Substance, an incubator that launched ecologically minded Soaper Duper and Beauty Pie, which is doing to the world of luxury products what Bliss did to spas. For $10 a month, you get access to $100 worth of products. Kilgore makes the numbers work by scouring the globe for the best makeup and newest actives in skin care, then selling them at factory cost.
Kilgore sat down with the Cut to talk about her weakness for the Dover Street Market, her 15 favorite Instagram accounts, and why she climbs up ski mountains, but won't ski down them.
What do you do to relax?
I hike up a mountain on skis until I am so exhausted I can't think. It's the new sport for the hard core. Whether you ski down depends on if you still have legs. I sit there and have soup then take the lift down.
Do you have pets?
My sons have two turtles: Shelly and King Turt. Get it?
What do you cleanse with?
Beauty Pie Double-Phase Daily Deep Rinse-Off Facial Cleanser. It's perfection.
Scent of choice: I love Byredo Pulp for the summer, and I really like Gucci Bloom for right now. It's like the discontinued Fracas, but rounder.
Underwear of choice: The daily, easy, what-I-buy-15-pair-at-a-time brand is always Hanro's boy short. The cotton is really great, the quality is very high, and their fit is consistent. And because they're Swiss, they're efficient about returns. And Eberjey has really nice bras.
Who cuts your hair?
Garren or Yves Durif in NYC, Paul Edmonds in London. When I'm desperate, myself.
What drives you crazy?
Complainers. I say, you only get so many breaths. Don't waste your air!
Go-to karaoke song?
Something Fleetwood Mac, like "Gold Dust Woman" or "Dreams." Maybe Carmen MacRae's version of "Feeling Good." Or ZZ Top's "Tush."
What are you working on mastering?
Employing the concept behind The Work by [self-help guru] Byron Katie at any opportune moment.
Coffee order: Single shot, extra hot, milky latte. Don't care where.
Shoe of choice: FitFlop Uberknit sneakers. And one 15-year-old pair of Yohji Yamamoto black leather ankle boots.
What do you splurge on?
Trips to Dover Street Market.
Weakness: Easily distracted!
Preoccupation: Efficiency.
What song is currently in your head right now, and are you happy about it?
Did you notice how James Morrison took over where Terence Trent D'Arby left off before the latter went all Cat Stevens and changed his name to Sananda Francesco Maitreya? James Morrison's "Too Late for Lullabies" is in my head, and I'm pretty happy about it
Preferred mode of transportation: By foot. If I have time, I walk. It connects the neurons, apparently.
What brands do you follow on Instagram?
@ThisIsStory @andpizza @museumoficecream @soaperduper @wateraid @meanmail @nymag @fastcompany @milkbarstore @beautycon @fatmascara @nasa @thecut @themidult @fitflop
Favorite meal and where?
The Surfer Bowl at Product C in Santa Teresa, Costa Rica, with an artisanal Ginger Beer from next door at ChopIt.
What should Pantone's color of 2017 have been?
I'm digging the violet because it apparently has a calming effect on people with erratic behavior issues. Perhaps useful?
What product in your domain is misunderstood and should be a best seller?
Really tough one because we purposely made our initial product selection to be very "core luxury" everyday stuff. We haven't gone totally wild yet with the out-there formulations, however, but I guess I could say the micro-needle eye patches that we have coming down the line? The active ingredient is baked into tiny micro-needles that open pathways into your skin for better product penetration. Sounds painful, I know. But they're super effective. And they only hurt for, say, a nanosecond.
What do you foresee as the top beauty trends in 2018?
Transparency, tech-nature hybrids. Less plastic.  And BEAUTY PIE.
If you won the lottery tomorrow, what are the first five things you would do, after, of course, giving most of it to charity?
I kind of feel that I already have won the lottery. There are people who need it more than I do. I kind of make my own lottery, actually. I have a lot of high-risk business things going on, so it's like trying to win, but with higher stakes and I'm paying a lot more than five bucks for a ticket. I'm just sort of more in charge of whether I'm going to win.