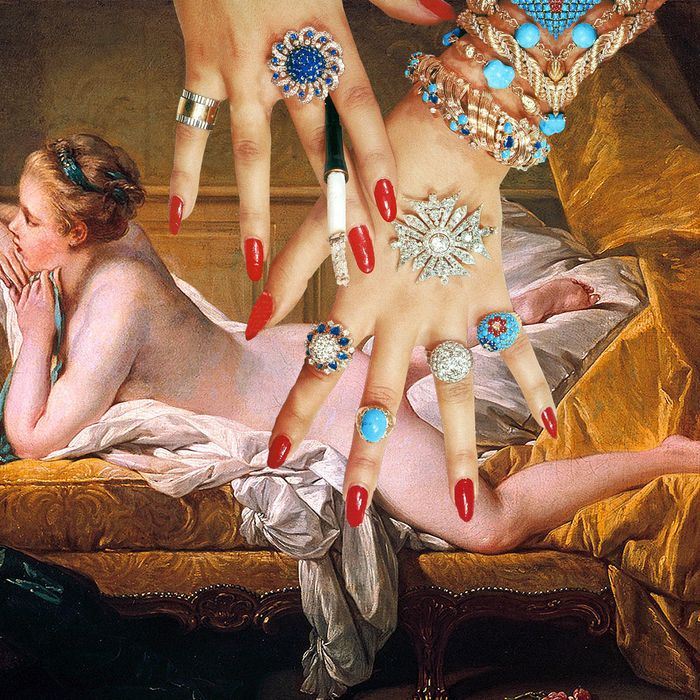 Illustration: Eugenia Loli
For the last 15 years, a studio apartment in uptown Manhattan has been a go-to destination for women who are looking for a little one-on-one … relaxation. The "sensual touch" service (which comes with a happy ending) is administered by "Dr. M," a 40-something man with a day job and apparently very, very skilled hands. The Cut spoke with three of his regular female clients about the experience of getting a happy ending.
"I had multiple orgasms and scheduled a second appointment for five days later." —Ava, 25
I've always had a bit of a sexual fantasy about a massage that turns into more. But I figured there was no way such a service existed. One random Saturday I Googled it. Dr M's website popped up and I was like: I need this.
I don't have trouble finding guys to date but I will say that I've been sexually bored with most of the guys I've been with. I work on Wall Street and when I first contacted Dr. M, I was sleeping with a colleague who was so bad. He didn't give a shit if I had an orgasm. I sent Dr. M an email and a picture of myself about two months ago. I think I was in "fuck it" mode.
He emailed me back and we talked on the phone. That's when he explained that it would take place at his apartment and it would begin with a full-body stress-relieving rub. He said the more "sensual" part is complementary and completely optional. He happened to have an opening a few days later.
We planned to meet at the Starbucks near his apartment. I was relieved that he wasn't a greasy old man or like a scumbag young hot dude. Just as he says on his website he's an average-looking 40-something guy dressed in jeans and a sweater. He made friendly conversation as we walked back to his doorman building and into his studio apartment which had dim lights, New Age music, and oil diffusers. I wasn't nervous anymore as he told me to go to the bathroom and take off my clothes and put on a robe. Next, I lay down on a massage table on my stomach and he started rubbing my arms and back with heated coconut oil. He asked if I was ready for him to get a bit more "sensual" by which he meant directly touching my vagina, boobs, and ass. Then he had me flip over. He found my G-spot immediately and I was like, Holy shit, this never happens unless I'm doing it. I had multiple orgasms and scheduled a second appointment for five days later.
I've never had a time where I had to be like "No, I don't want to do that …" Obviously he can tell how wet you're getting. I'm loud during sex and at first I was a bit self-conscious of that. He said "No, no, no I like it …" Apparently I move a lot when I'm about to come, at one point he told me that I was about to fall off the table.
I don't have any sort of attachment to him, but he's a comforting presence. I can focus on my pleasure and I don't feel like "Ugh, god, I'll have to spin around on his dick in return."
Since I've been seeing him I've been calmer and I feel much less urgency with men. I don't want to go out and have sex with a different guy every other night. It's making me a little more selective. And I don't have any of that sex anxiety like, "Ugh, do I have to sleep over?" Or, "Oh no, will he still be here in the morning?"
I haven't ever told anyone and I don't plan to. I don't want to have to explain it and I really don't want my friends to go try him out. I don't want to compare sessions, I don't want to turn it into a "thing." This is one of the very few things I have in my life that is all mine.
"I'm not exactly sure what he does but when he first touches my vagina it feels like he's slowly peeling back layers." —Isabella, 40
My first visit coincided with the end of a ten-year relationship. We hadn't had any form of intimacy for a year and we'd totally stopped talking. I missed physical affection but I didn't want to have an affair. I think I considered that this is morally different to cheating. I'm a single mom and I work full-time. I am busy and relationships feel like nothing but effort.
There's no pattern. When I first started seeing him I went every few weeks but these days it's more like every few months.
When I found his website I read all his reviews, and articles about him. Safety was my first concern: I only moved to New York six years ago so it's still a place that I'm getting to know.
We met in a public space near his apartment. As we made small talk I discovered that he has family in my hometown, which is very small. That made me relax and by the time we got upstairs I felt at ease. I looked around his apartment at a massage table he's set up and felt a bit weird; by that point I was nervous because I had never done this before, not because I was worried he'd attack me. You're not sitting there with a beer in the dark or anything … It's just you and your body, it's a vulnerable position.
He explained again very clearly that this is not a deep tissue massage, I guess to make sure we were on the same page. That could be very awkward. He explained that after the "rub" he'd take the towel off and go to more private areas.
After about 20 minutes I started to get turned on. At first it was hard for me to have an orgasm while I was on my back, it was too direct. Running through my head was the thought, The only reason this person is touching me is because I actively reached out to him and I am paying him for it … The way he touched me that first time was a bit clinical, maybe he was focused on appearing professional? I couldn't have an orgasm when I was on my back. The context was just way off. I did have an orgasm on my stomach, though.
I wanted to try it again once the threat of the unfamiliar was gone. So I went back three weeks later: It kept getting better and better.
Now I am totally in the moment when he touches me. I'm not exactly sure what he does but when he first touches my vagina it feels like he's slowly peeling back layers. My sessions include external and clitoral touching but he uses his fingers and goes inside me, too. He doesn't really talk, I guess he listens to how your body responds to his touch. There have been times where I have had four orgasms.
Two years later, I've discovered that it's actually a huge turn-on to know that I'm the one who instigates our encounters. Knowing that I know that he knows that I want this really turns me on. I feel like I am both empowered and submissive at the same time. I'm empowered because I'm deciding to see him, and the focus is on my pleasure, but I'm also completely naked allowing him to take over.
I get easily attached to people and I have to accept that this is not going to be a relationship. It's not intimacy, like you would have with a lover or boyfriend. It's more like having a connection with someone that is not available — like a crush you have on someone you know you can't have — maybe a teacher or a friend's husband …
I do think, how long will I keep seeing him? I tell myself that when I find somebody who I want to get into a relationship with, I'll stop.
"It's so vanilla and yet, it's so kinky." —Carrie, 60
My husband was sick with cancer for 12 years before he died. After he was gone I realized that I didn't miss sex as much as I missed the touch and having something to look forward to. Maybe even more than that, I missed being seen.
I read an article about Dr. M and thought, Gee … I thought on it for a few weeks and then finally emailed him saying, "Look … I am not some 20-something blonde thing …" I also gave him a little backstory. He said the age doesn't matter. We talked on the phone and I felt like I was talking to an old friend.
We made a date and I took a cab to his apartment. The drive uptown, I was having a conversation with myself, Should I even go through with this? I figured, it's an apartment, there are neighbors, it's not like I'm going to a house in Queens.
It had been so many years since I'd been naked around a man. I'd put on nice lingerie but you don't strip for him, you get changed in the bathroom. It's so vanilla and yet, it's so kinky. That first time wasn't an unpleasant experience, but it wasn't satisfying, either. It's very consensual. He'd say: "Now, I'm going to touch you here, is that okay?" I was caught up wondering: Will he find me attractive? After a while a part of me thought, Who cares if he finds me attractive? So what if he thinks that I'm too old? … I do not give a fuck…
Do I always have an orgasm? Absolutely not. But there's never any need to apologize. He might say, "Can I do anything different for you?" You don't have to say "It's nothing you did" and go through all that bullshit.
When I'm buying lingerie, sometimes he'll cross my mind. Occasionally I'll think about him when I'm masturbating. I'm glad that he's a part of my life, but if he were to go away, I'm not sure I'd miss him.
I think for me the main appeal is that excitement that you're going to be with someone for one hour who has no other purpose other than to please you. There's nothing reciprocal. There are almost no other instances in your life where that holds true. You don't have to smile. You don't have to make anyone else feel good. There are few good things that happen to you in life that are quite so selfish.