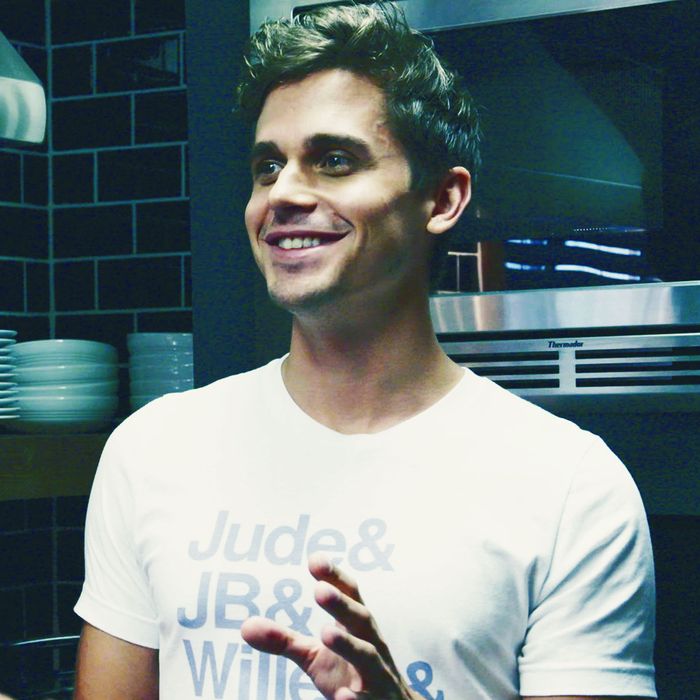 Photo: Courtesy of Netflix/Courtesy of Netflix
Antoni Porowski is the Fab Five's "food and wine guy" on the Netflix reboot of Queer Eye. It seems that one would have to fulfill certain specific requirements in order to hold this esteemed position, including possessing "skill in the kitchen" and "the ability to make food." Allegedly, Antoni Porowski, a chef, meets that criteria. Allegedly he's a good chef, one who served as the personal chef and assistant to his Queer Eye predecessor, Ted Allen.
But, a twist! There's a fun little conspiracy theory out there that Antoni is actually no cook. And after watching all eight episodes, it's become clear that while Antoni is good at a few things — stanning for A Little Life, smiling, making soft sympathetic eyes at all of the makeover subjects — there is little proof that he can cook at all. Think about it. Did you see him cook the pork tenderloin?? Do we have proof he made that chili? Is he a culinary expert or a master of deception? Antoni is out there offering just enough vague defenses of his TV cuisine that it will require further investigation before we can decide. So let's take a close and critical look at everything he's cooked this season.
Makeover subject Tom LOVES to go to his favorite Mexican restaurant to pound enormous burritos and wash them down with ginormous margs. When he's at home he makes something called a Hillbilly Margarita (tequila and Mountain Dew). To me, it sounds like Tom is living, but according to Antoni, he needs improvement. So, first up, Healthier Guacamole and Mystery Margaritas.
Healthier Guacamole: 
Avocado, salt, acid from lime juice, cilantro, Greek yogurt
Mash it up. Add little scoop of tangy Greek yogurt instead of sour cream. Eat it with some Scoops tortilla chips.
Mystery Margaritas: 
Apparently, Antoni taught Tom to make a margarita that didn't involve Mountain Dew. I never saw it. At the end, as a bonus tip, Antoni teaches us how to spice up your margarita: Add some jalapeños or cilantro. What else is in this marg??
Neal used to cook a lot, but now has fewer friends to come to parties so he stopped throwing them. That's real, man. He's sort of sad about it. Antoni just wants him to bring life to his kitchen and make something beautiful for guests again, like it's the castle in Beauty and the Beast. Nothing reanimates a grown man's kitchen like Grilled Cheese for a Crowd. 
In order to make the sandwich, Antoni takes Neal to a restaurant, Cooks and Soldiers, where a professional chef named John shows Neal how to make a grilled cheese with white American cheese and iberico ham. The trick here is to slather mayo — "sandwich lube" — on both sides and cook it in a ton of butter. Note: John is what a professional chef looks like.
This is Antoni's version of the delicious Grilled Cheese for a Crowd: leeks, white cheese (unclear what kind of cheese), white bread.
Butter the bread, grate the cheese, cook the leeks in lots of butter. There was mayo out, but no telling what to do with that mayo. Neal adds some of his blood, because nobody taught him how to use a cheese grater. After that, the trail goes cold.
Episode 3: Cop Cory loves a few things: spandex costumes, Nascar, parties, and drinking warm pickle juice. He does not love to be healthy. Enter Antoni, with a Clean-Eating Avocado Grapefruit Salad and Fricking Delicious Sangria. 
As Antoni notes, this is all about technique and presentation, a.k.a. things to distract us from "not cooked."
Clean-Eating Salad: 
Grapefruit, avocado, Dijon mustard, acid (??), olive oil, kosher salt.
Section the grapefruit into wedges, slice the avocado, mix the Dijon, acid (we talking lactic or …), and olive oil. Alternate grapefruit and avocado on a plate, drizzle the dressing.
Fricking Delicious Sangria: 
Sugar, fruit, cognac, red wine.
Pour sugar over some fruit — which fruit?? – pour in some cognac, add some red wine. Add a fruit kebab for presentation and to distract your guests from the lack of food.
AJ grew up eating Tex-Mex with his stepmother and late father. Now he basically just makes protein shakes. Instead of just helping him make better versions of the thing he already loves a lot, Antoni is going to teach AJ to make A Whole Beautiful Spread of Queso Fundido, Arepas, and Grilled Vegetables. This sounds so good, actually.
But first, the team goes to AJ's stepmom's house, so she can show us how to make tamales. She mixes pork, garlic, and Mexican oregano; she soaks husks, makes masa, and shows us how to assemble them. She is a queen. Antoni idly pretends to assemble a tamale with premade ingredients.
A Whole Beautiful Spread of Queso Fundido, Arepas, and Grilled Vegetables
Two whole blocks of cheese, grated; asparagus, red peppers, olive oil, arepas someone else has made, ground pork filling someone else has made.
Put cheese in the oven at 400 degrees: It will take about 7 minutes. While that's cooking, coat vegetables in olive oil and salt. Grill the veggies on an indoor grill pad. Then assemble the arepas that someone else (not Antoni) has made by stuffing it all in there and then stuffing it in your mouth.
Bobby is a good Christian father to eight kids and has no time to cook for them, or his wife Vera, or to keep the kitchen clean. Antoni wants to show him how to cook something easy and substantial for his family, plus one sexy dish for his vow renewal ceremony. Antoni suggests Seriously Where'd That Chili Come From? Chili and Pre-Prepped Pork Tenderloin Canapés.
Seriously, Where'd That Chili Come From? 
Dump all the ingredients (no specific ingredients given) into a Crock-Pot, and set it for eight hours. No idea where that chili came from. Antoni definitely didn't handle raw meat with his perfect hands, but he looks great.
Pre-Prepped Pork Tenderloin Canapés
Mysteriously prepared pork tenderloin, whiskey caramelized onions, baguette, room-temperature butter, salt.
Cut the baguette into slices, slice the pork tenderloin someone else made, add a little room-temperature butter, a dollop of whiskey-caramelized onions you have no idea how to make, and sprinkle some salt. Antoni almost forgot to add the salt. Sus.
This is probably the most offensive culinary experience I've witnessed. Remy's father passed away. He was a great cook, so Antoni is going to help Remy make some Thanksgiving-like food so he can feel close to his deceased father. Again, Antoni calls upon more talented chefs for the assist. This time, it's Remy's perfect mother, Estelle, who makes a sweet potato pie and offers her mac 'n' cheese recipe for Antoni to mess up. The final menu: Remedial Green Beans, Colonizers' Mac 'n' Cheese, Whatever Whiskey Punch, and a Pie Someone Else's Mom Made. 
Colonizers Mac 'n' Cheese: 
Antoni's good friend Dijon mustard again, ground nutmeg, salt, cottage cheese, whole milk, parmesan, Gruyere, cheddar (actually from Vermont!), panko. Antoni never mentions noodles, but I saw them. He also never mentions peas, but those assholes were there too.
Mix all that together, bake it, and appropriate a black woman's signature recipe like you're Taylor Swift.
Remedial Green Beans: 
Green beans, Olive oil, Salt
Cook them in a glass casserole dish? No clear suggestion as to how.
Surprise! Meatloaf! 
Some raw meat, some raw eggs.
Mix it up with your hands. I don't know how to cook it. Neither does Antoni, I'm guessing.
Whatever Whiskey Punch: 
Well, Antoni has given up, so we all have. Just mix whatever fruit juices, soda water, ginger ale, and whiskey. Then drink it for dinner instead of eating that noodle, cheese, and pea casserole.
Below Average Joe is a stand-up comedian, and unfortunately for us, the episode focuses on that. As such, there's really no time for Antoni to demonstrate cooking anything. Thank god: I still haven't forgiven him for that "macaroni." Below Average Joe's brother is an Above Average Cook, so again Antoni outsources.
The gang eats some fries, a fatty-ass cheeseburger, some smoked buffalo wings, collard greens, and fried pickles. Damn! Looks great! Would love to eat that. Antoni? How do I make those — where'd you go????
Jeremey is a baby-faced firefighter, who needs to make an easy, fast, and family-friendly dish for a fundraiser. Jeremey is the most decent human being on Earth, and Antoni will reward him by showing him how to make  $4—no, $5—Hot Dogs. 
But first, Antoni helps Jonathan (grooming guy!) make face masks by blending egg whites and peaches into a puree. It's probably the most we've seen him cook and it looks more edible than the mac 'n' cheese.
$4—no, $5—Hot Dogs
Hot dogs, hot dog buns, honey, Dijon mustard (of course), pickled carrots (you figure it out), chipotles in adobe, mayo, potato chips.
At some point, using some method, pickle the carrots. Mix honey with mustard to create a sauce (commonly known as honey mustard, but bless, Antoni thinks he created it). Mix the chipotle with the mayo. Crush the chips. Grill the hot dogs and the buns. Slather them in sauces. Then up-charge innocent small-town people who just want to support their community.
Bon appetit! Antoni definitely can't cook, but I for one welcome his soon-to-come concept restaurant based around various dips, Dijon mustard, and sexy, good lips.