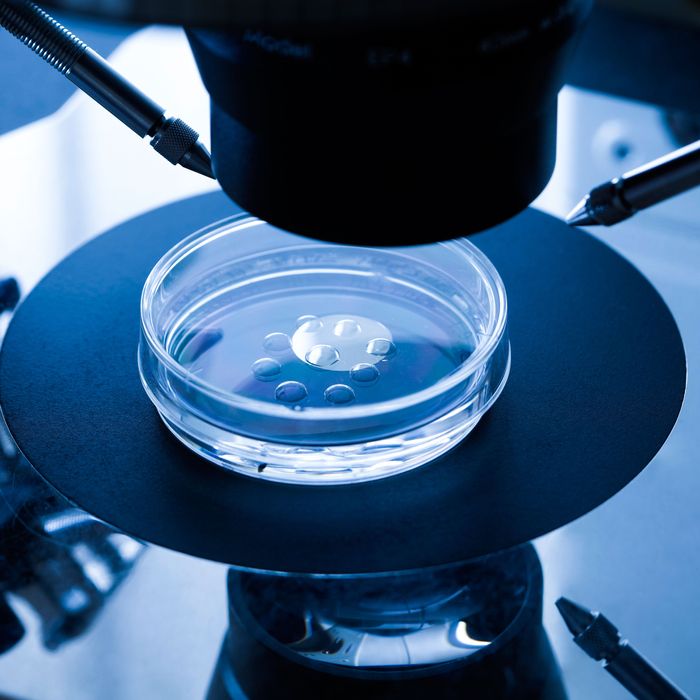 Photo: Science Photo Library/Getty Images
Two fertility clinics experienced similar but unrelated recent failures that could have damaged thousands of eggs and embryos, NPR reports.
The first fertility clinic disaster occurred on March 4 at Cleveland's University Hospital Fertility Clinic, where an "unexpected temperature fluctuation" affected the clinic's tissue storage bank. This incident may have damaged an estimated 2,000 eggs and embryos, and affected around 700 patients in total.
The second incident, which was only reported this weekend, incidentally happened on the very same day. At San Francisco's Pacific Fertility Center, liquid nitrogen levels fell dangerously low in one storage tank that contained "thousands" of eggs, per NPR. In the aftermath of that failure, the clinic has contacted around 400 patients.
In San Francisco, fertility clinic president Dr. Carl Herbert is actively working to assess the damage done to the eggs and embryos.
"The good news is, we have viable embryos — we've proven that from that tank," Herbert told ABC. "So my hopes are that for my patients, they'll be okay. But because there's an unknown, it's extremely stressful." He also said that the clinic has adopted more fail-safe measures to prevent future failures.
But these new measures and the discovery of some undamaged eggs and embryos can't comfort all patients. Herbert told the Washington Post that patients have been understandably upset. Grief aside, the clinic's prices for freezing eggs and in-vitro fertilization are costly — according to the clinic's website, they cost at least $8,345 and $11,595, respectively.
"Anger is a big part of the phone call," Herbert said. "Our goal is to provide all the patients we see with some kind of a family … We need to think: If this tissue doesn't work, what are the next steps, and have you not feel defeated."
The Cleveland hospital also released a formal statement: "We are incredibly sorry this happened. We are committed to getting answers and working with patients individually to address their concerns."
The next steps both clinics will take with all patients affected by the failures, regarding compensation or otherwise, is unclear. This morning, a family who lost two embryos because of the Cleveland failure filed a class-action lawsuit against the fertility clinic.