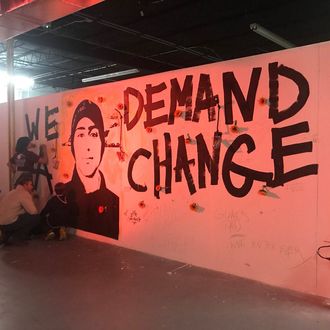 The mural created by Manuel Oliver.
Photo: @lexforchange/Twitter
Last month, Joaquin Oliver was one of 17 people killed during a February 14 shooting at Marjory Stoneman Douglas High School in Parkland, Florida. On Saturday, his father Manuel created a powerful mural to honor Oliver's memory — featuring an image of his late 17-year-old son and the message, "We demand a change."
The mural was part of the "Parkland 17" exhibit created by artist Evan Pestaina, organized by Miami Heat NBA player Dwyane Wade, and held at a Miami art space. As HuffPost notes, Oliver had been a big fan of Wade's basketball team — and was buried in his jersey last month. The exhibit was held to commemorate those who lost their lives during the massacre and to call for gun-control action.
Many students from the school signed the Mural, with Oliver's father Manuel mentioning his nickname and writing, "Guad's Dad: Love you forever." A video of the art being created — which has since gone viral — was shared on social media by Oliver's former classmate Lex Michael, who wrote that the mural had made her cry.
In addition to the mural, Oliver's father also founded an organization in the aftermath of the shooting. Change the Ref seeks to empower young people to fight for stricter gun control. In a video about the organization, Manuel says, "We need to support them. They will choose the right refs [referees] for a fair game so we can have a great nation again."