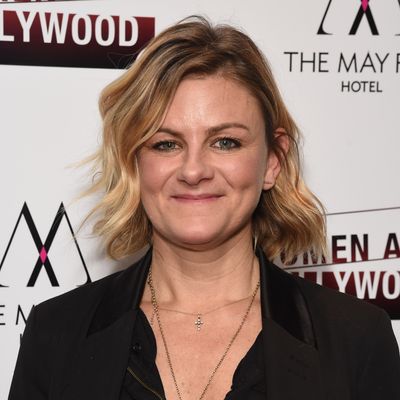 Former Harvey Weinstein assistant Zelda Perkins.
Photo: David M. Benett/Dave Benett/Getty Images
Harvey Weinstein's former assistant Zelda Perkins, who worked in the London Miramax office during the late '90s, says that she tried to use her legal agreement with her former boss to stop his alleged pattern of sexual harassment and abuse. The Associated Press reports that Perkins included requirements in a nondisclosure agreement that he would seek psychiatric help for his abusive behavior.
Last fall, Perkins broke her near-20-year nondisclosure agreement to reveal the sexual misconduct she and a colleague experienced and the "egregious" terms of the settlement. At the time she explained that she was "made to feel ashamed" for coming forward with the accusations and went through a grueling, secretive process. She alleged that Weinstein would appear in the workplace without pants, and her coworker accused Weinstein of attempted rape. In addition to granting Perkins £125,000 for her silence, the agreement required Weinstein to attend therapy for three years. If he made another payout to an accuser the company would either have to reveal the legal action to Miramax's then-owner Disney or fire the movie mogul.
Though Perkins said she had hoped her agreement would "create protection for people in the future," she told AP "I have no idea if any of the obligations were upheld." When she saw Weinstein at the Cannes Film Festival several years later, she claims, "he told me that everything I had done was pointless."
Weinstein has denied all accusations of nonconsensual sex.
Perkins will reportedly testify about harassment and nondisclosure agreements in front of British Parliament's Women and Equalities Committee on Wednesday.