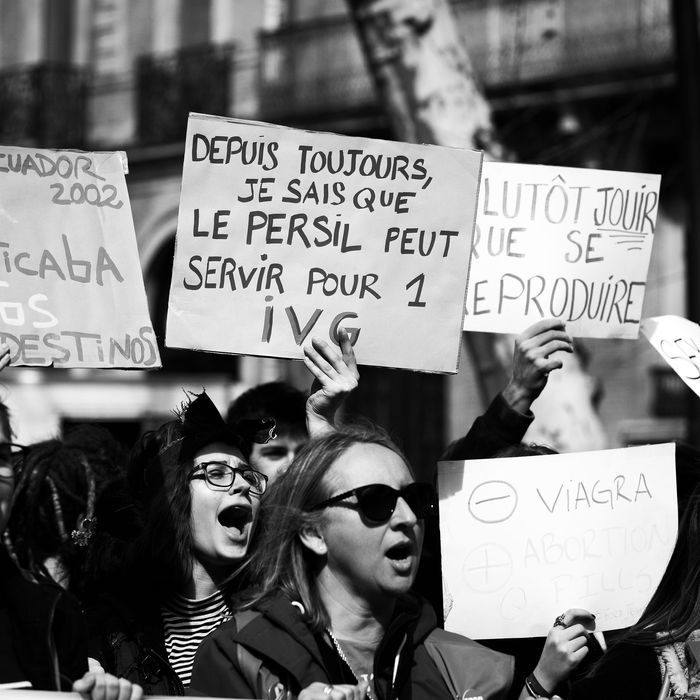 Photo: Alain Pitton/NurPhoto via Getty Images
As anticipated, France is unveiling a new bill that will institute on the spot fines for sexual harassment in public places, The Guardian reports.
With the support of President Emmanuel Macron and France's equality minister Marlène Schiappa, the legislation will be introduced at a cabinet meeting on Wednesday. Along with fines for sexual harassment, the bill proposes to raise the country's age of consent to 15, as well as lengthen the statue of limitations on filing rape cases so underage victims of rape have until they are 48 to file complaints. (This would be an extension of ten years.)
Under the proposed legislation, sexual harassment offenders would be required to pay anywhere between $110 to $920 on the spot for the crime. However, the fines could go even higher for repeat offenders or harassers who were especially aggressive.
"The idea is that it is high enough to be a deterrent but also that we could be sure the harasser can pay it immediately, so that the law can be efficient," Schiappa said in a Facebook Live session.
Those behind France's recent proposals to combat sexual violence claim that these bills were drafted long before the current #MeToo moment, but the worldwide reckoning with sexual harassment has certainly helped to raise awareness of the necessity of these types of legislation. While Schiappa alluded to the existence of some pushback regarding fines for sexual harassment, women all over France have protested the country's macho culture, illustrating that they want something to change.
"There is some reluctance, some say we will kill the culture of the 'French lover' … if we punish street harassment," Schiappa told Reuters. "But it's the opposite. We want to preserve seduction, chivalry and 'l'amour à la française' by saying what is key is consent. Between consenting adults everything is allowed; we can seduce, talk, but if someone says 'no', it's 'no' and it's final."