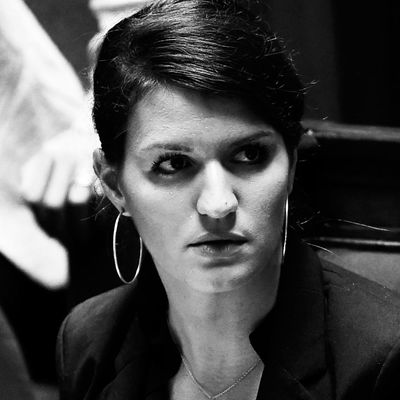 Equality Minister Marlène Schiappa.
Photo: Bertrand Guay/AFP/Getty Images
On Monday, France's Equality Minister Marlène Schiappa announced that after public consultations, and based on the recommendation of a panel of experts, the French government will move to set the age of sexual consent to 15.
The decision follows two high-profile cases involving adult men allegedly having sex with 11-year-old girls. Back in November, a 30-year-old man was acquitted of rape after the court found the young girl had not been subjected to "constraint, threat, violence or surprise," and earlier this year a 28-year-old had the charges against him downgraded from rape to sexual relations with a minor, a decision that reportedly enraged the victim's family. (Last month however, the court reversed its decision, saying the accused should in fact face rape charges.)
Currently, French law criminalizes sex with children under 15, but in order to bring charges of rape, prosecutors must prove there was violence or coercion involved.
The new proposal is supported by President Emmanuel Macron, and is part of a package of laws the government plans to put forward in the coming weeks to combat sexual violence and harassment.
The new law would help the country develop a "collective awareness" of what is "legal and illegal," Minister of Solidarity and Health Agnès Buzyn told Le Figaro, and would be "the most protective of children."