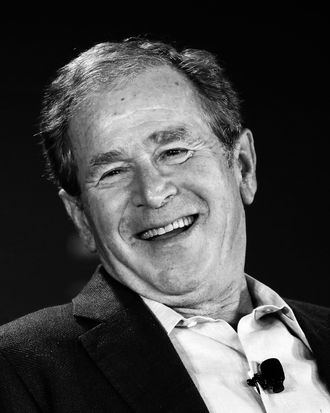 When you know you'll never be tried at The Hague.
Photo: Chris Jackson/Getty Images
Although former president George W. Bush managed to be both incredibly dumb and incredibly destructive (get you a world leader who can do both), he's been getting a remarkable image rehab since Trump came along. He's even reportedly been telling friends that 45 makes him "look pretty good" and — if this video of him dancing at nephew Pierce Bush's wedding to Sarahbeth Melton in Colorado Springs last weekend is any indication — he's feeling pretty good too.
In the clip, W. can be seen cutting loose to "You Spin Me Round" and, as TMZ points out, even tries to get a conga line started near the end:
It's just like the saying goes: sing like no one is listening, love like you've never been hurt, and dance like you didn't start the most unnecessary and catastrophic war of the century.