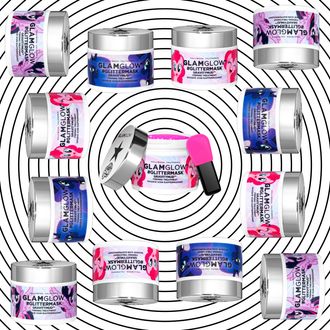 Insta-famous beauty brand Glam Glow announced the release of its new limited-edition glitter masks last night on its favorite platform, by way of vloggers Chrisspy and MakeupShayla. The masks are sure to be just as photogenic and trending as every other Glam Glow mask — remember the green and gold Power Rangers ones? These new ones were all inspired by My Little Pony and are pure magic in more ways than one. Not only are the masks multicolored, they're also amazing for the skin. Plus, they're the best way to create the glitter-face look seen at the Giambattista Valli Paris fall 20018 runway show, while helping your skin look rejuvenated.
The My Little Pony masks are named Princess Luna Black, Pinkie Pie Pink, and Twilight Sparkle Purple and come in bright, matching colors. The Princess Luna Black mask has a midnight black base with silver holographic stars sprinkles throughout. Pinkie Pie Pink has a hot pink base and Twilight Sparkle Purple has an ultraviolet one — both have silver flecks scattered throughout the mask.
The masks all use the same iconic formula that Glam Glow is most known for: the contour-enhancing Gravitymud Firming Treatment mask. Leave it on until it's completely dry or until you're done taking selfies, then peel off — thankfully, these ones aren't painful to remove. After about 30 minutes, skin is left tighter, more lifted, and skin tone appears more even. The masks are infused with rejuvenating and tightening marshmallow, licorice leaf, marine algae, moisturizing hyaluronic acid, and clarifying glacial clay for a mask that's as effective as it is fun.
Glam Glow's My Little Pony masks will be available next month on Glam Glow's website and at Sephora.