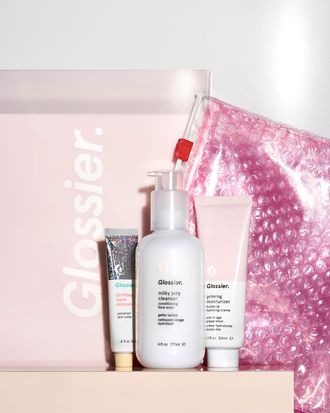 Glossier just keeps getting bigger. The millennial beauty brand selling Über-popular cleansers, balms, and brow fillers just finished its third round of funding, in which it raised $54 million. However, WWD reports that Glossier seems to be on the IPO track, as the founder and president are set on making it as big a company as possible.
"We are building a massive, stand-alone business with customer experience at the core," founder Emily Weiss told WWD. "If an IPO is the best way for us to get there, then we'll do that." She also said that they had no specific plans for an IPO at this time.
Industry officials say Glossier is currently valued at around $390 million, is not yet profitable, and has around $40 million in sales. After their Series B fundraising (which garnered $24 million) they expanded their product line beyond the beloved balms and cleansers to an acne solution, body lotion and oil, sunscreen, and a perfume. For a line that started in 2014 with just four products, that's pretty impressive.
Despite its fast growth, it still has a long way to go before it can compete with L'Oréal, Coty, or Estée Lauder, all of which have at least $9 billion in annual sales. Maybe soon Glossier's community of Gen-Z reps will be shareholders. Whatever happens, the company is definitely looking to keep growing, growing, and growing.
"Our long-term vision, five years out or whatever it is, is to be a massive stand-alone company that has reinvented the way people engage with beauty brands, beauty products, and the customer experience," president Henry Davis told WWD. Boy brow isn't going anywhere, folks.