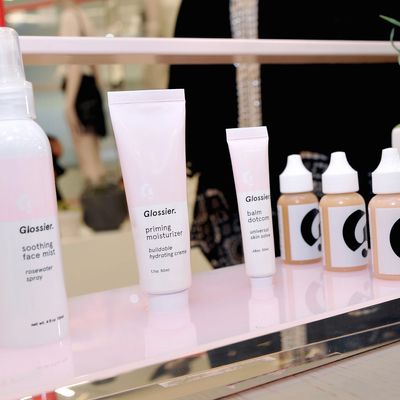 Glossier.
Photo: John Sciulli/Getty Images
Is anyone better at capturing the famously short attention spans of millennials better than Glossier? The answer to that is "no." Just a few weeks after the beauty company announced they're selling Beyoncé-approved eye shadows — dubbed "Lidstar" — they've opened up a pop-up in San Fransisco at a fried-chicken joint. Nothing goes better with clean, dewy skin than buttermilk fried chicken.
Glossier is partnering with the family-owned restaurant Rhea's Café, in the Mission District of San Fransisco. At the opening yesterday, the line was out the door. It was probably helped by the fact that Rhea's painted the outside of their store millennial pink. The diner counter was transformed into a makeup counter, with chefs battering and frying chicken just behind the mirrors and stacks of Milky Jelly Cleanser and Boy Brow.
The Glossier pop-up will stay until April 15 at the store, located at 2200 Bryant Street. Go for the 'gram, stay for the chicken and fries, and greasy fingers totally double as glow.