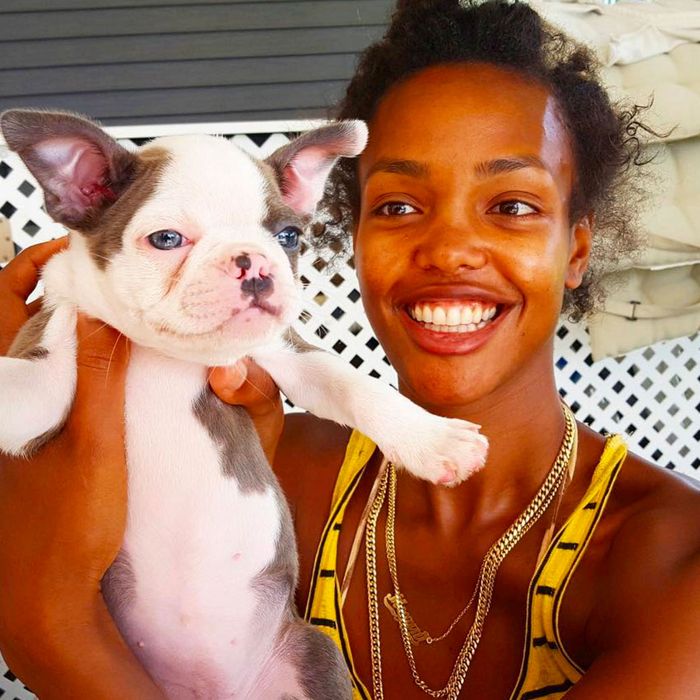 Photo: Courtesy of Megan O'Neill
Do you ever see someone on Instagram and think "Why is your skin so good?" We do, so we started asking. Welcome to Why Is Your Skin So Good, a series.
Megan O'Neill is the senior beauty editor at Goop, and she's got the Instagram presence to back it up. Her glowing skin and perfect pastry recipes make followers trust everything she says about how to look and feel healthy.
In addition to Moon Juice dusts and matcha for self-care, O'Neill also believes in the art of a good soak: "One of the things that I do for my body, and soul, and mind is take a bath." Read on for her daily beauty routine.
"I'm into balm cleansers because I love how they lift dirt and oil but at the same time intensely hydrate my skin. This one comes in a big luxurious tub that's fun to scoop from (you need only a touch; it's RICH and swirled with olive and coconut oils ) and is the first step in my master glow plan."
"De Mamiel anything is gorgeous! And every oil and formula is meditated and chanted over to infuse it with beautiful vibes. They have seasonal oils meant to nourish and meet skin's specific needs as the temperature changes — perhaps I shouldn't be using the Autumn one now. Either way, it's awesome and infused with prickly pear (which is an incredible source of vitamin C)."
"If it's really cold out or I'm super dry, this stuff is no-fail.
The intensely hydrating blend of camellia seed oil, shea butter, frankincense, and marula oil cocoons skin and smells incredible. I recently went snowshoeing and smoothed this on before heading out. My gleam lasted all day."
"I spray this on 100 times a day. It's refreshing, prevents me from wilting at my desk, and the faint rose smell just makes me happy."
"I smooth it everywhere — on my scars from a hot-oil cooking incident to soften them; on my eyelids because I love the glossy, summery gleam it gives them; in my hair; and on my lips. The miracle ingredient is amla berry, which is proven to support collagen. So into this stuff."
"The morning is better when I mix this super-nourishing powder into my Sencha green tea. It has ashwagandha, amla, and pearl extract to make skin glow. The taste is mild and hardly noticeable when I load my tea up with Manuka honey. It's just one of those rituals that makes me feel radiant and great about myself."
"This is the prettiest, most flattering thing on the planet! It looks sort of dauntingly pigmented in the pot, I know, but smoothed into skin — almost any shade from darker than me to much lighter — it gives a gorgeous flush. It's infused with coconut oil so it melts right in. I love how dewy and sun-burnished I look when I tamp it onto my cheeks and spritz some floral essence over."
"I dump a cup into a steamy tub — and omg. The charcoal, matcha, Epsom salts, and clay go to work. I steep for half an hour, and all my stress fades away. I emerge revitalized, soothed, and eager for the next time I can luxuriate like that. I keep a few bags on hand because I really burn through the three baths contained in one."
If you buy something through our links, New York may earn an affiliate commission.