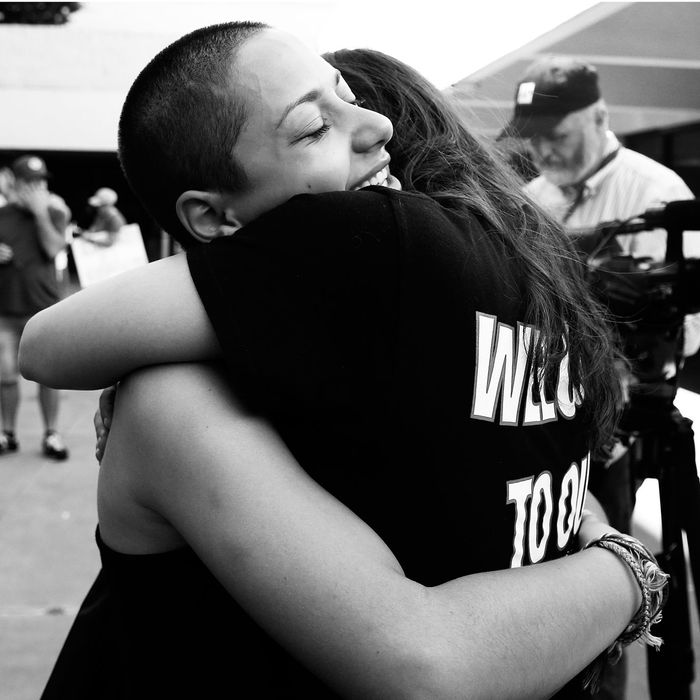 Emma González.
Photo: RHONA WISE/AFP/Getty Images
After rightfully drawing ire for referring to a Parkland shooting survivor as a "skinhead lesbian," disgraced Republican candidate Leslie Gibson has dropped out of the race for a House seat in Maine.
"I am not walking away with my head hung low. I am walking away with my head held high," Gibson told the Portland Press Herald Friday. "It's the best thing for everybody."
Gibson, a lifetime NRA member who clearly lacks a filter, was triggered last week by a photo of vocal survivor and gun-control advocate Emma González, which provoked him to send a derogatory tweet about her. "There is nothing about this skinhead lesbian that impresses me and there is nothing that she has to say unless you're a frothing at the mouth moonbat," he wrote, and later insulted fellow survivor, David Hogg.
At the time of his controversial statements, Gibson was running unopposed in Maine's 57th District. Just days after Gibson sent disparaging tweets about two student survivors of last month's horrific shooting at Marjory Stoneman Douglas High School, though, two new candidates filed paperwork to run against him: Democrat Eryn Gilchrist and Republican Thomas Martin Jr.
While she never intended on running, Gilchrist told the Sun-Journal that felt so "horrified and embarrassed" at the prospect of Gibson representing her, that she decided to enter the race.
Martin, a former state senator, also felt compelled to take a stand against Gibson.
"After those recent unfortunate comments, I couldn't sit back," he said.