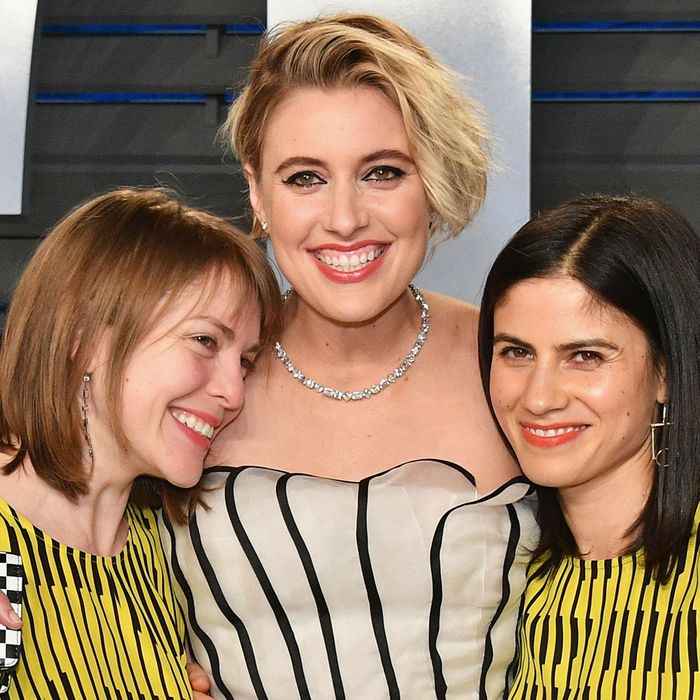 Greta Gerwig and her matching friends.
Photo: Dia Dipasupil/Getty Images
This year's Oscars had a several major themes: fish, #MeToo, the cast of Black Panther looking great, Phantom Thread being robbed, and, of course, friendship. After Keegan-Michael Key's ecstatic reaction to Jordan Peele's win, it was fitting that Lady Bird genius Greta Gerwig's friends came out to support her at the Vanity Fair Oscar party wearing matching outfits.
Given that Gerwig's brilliant film is about friendship, mothers and daughters, Dave Matthews Band, and growing up, it was appropriate that the five women showed up matching like high school teens (who later grow up to be each other's bridesmaids) to celebrate the acclaimed writer/director/actress's big night. The best supporting friends were all wearing black and yellow prints by Brooklyn brand Dusen Dusen, while Gerwig donned Christian Dior Couture.
Ellen Van Dusen, the brand's designer, told the Cut in a statement that the friends came to her in search of the matching outfits:
These ladies are Greta's best friends from college, who she invited out to celebrate with her. I know Ana (one of the five) through a friend, and she came to me looking for something special and bold for the crew that would look good and broadcast that they were a team. They decided on all wearing the same print, which I was super into. My favorite outfits are ones that are head-to-toe in a uniform print, so doing that five times over was a true thrill for me.




It's embarrassing to show up in the same outfit as one other person, but extremely cool to show up in the same outfit as four other people. I liked to think about it as dressing a 2018 version of a very fashion forward and sophisticated boy band (but women). I love Greta Gerwig too, so the whole thing was a real treat. I think they looked great together!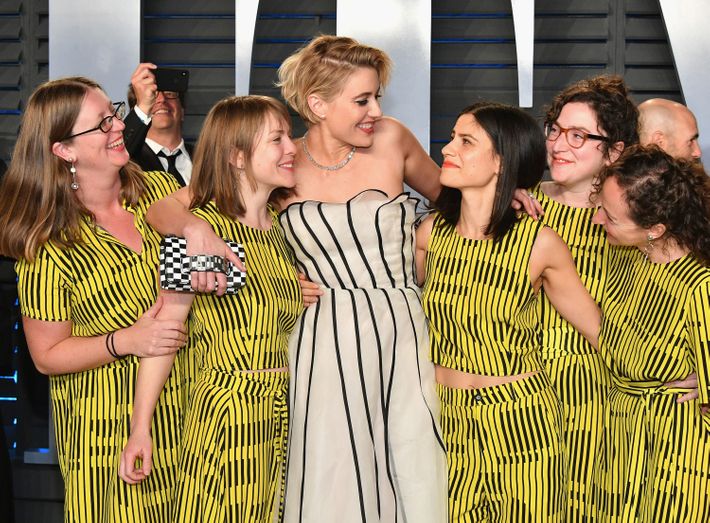 We agree: the gang looked genuinely happy to be at the party together. Their bond (and ability to pull off yellow) is unquestionably strong.
This post has been updated to include the statement from Ellen Van Dusen.