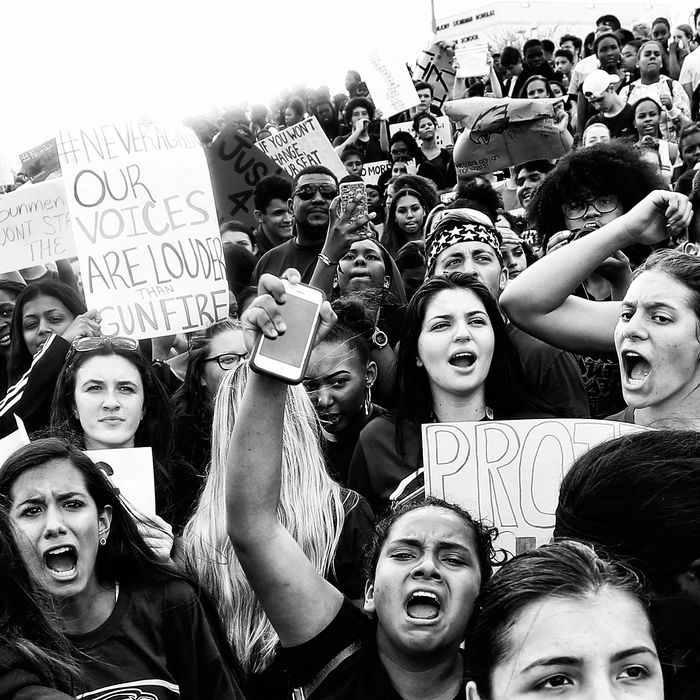 Students protesting at Marjory Stoneman Douglas High School.
Photo: RHONA WISE/AFP/Getty Images
In the wake of the horrific shooting at Marjory Stoneman Douglas High School in Parkland, Florida — during which 17 people were killed with a legally-purchased semi-automatic AR-15 rifle — survivors and families of those who were killed have demanded stricter gun-control laws. Stoneman Douglas senior Emma González said during a rally, "We certainly do not understand why it should be harder to make plans with friends on weekends than to buy an automatic or semi-automatic weapon."
Since then, a number of small changes have taken place across the U.S., from certain retailers altering their assault-rifle policies to lawmakers speaking out in favor of passing new gun-control legislation. Of course, there is still much work needed to be done to prevent such attacks from taking place (and, just this week, a teacher in Georgia was arrested for firing a gun at school). But here are some of the small steps toward gun-control that have been taken so far since the Stoneman Douglas shooting.
Two of the U.S.'s top firearm retailers changed their gun-buying policies.
On Wednesday, Walmart and Dick's Sporting Goods — two of the largest gun retailers in the U.S. — announced they were changing their policies around the sale of firearms. The New York Times reports both companies said they would be raising their minimum gun-buying age to 21 (under federal law, you have to be 21 to buy a handgun, but you can buy semiautomatic rifles and other guns at 18). Dick's also said it would be immediately ending its sales of all assault-style rifles and high-capacity magazines, while Walmart said it would not sell items that look like assault rifles (including toy and air guns). Walmart also noted in a statement that it stopped selling AR-15 style guns in 2015.
A number of major companies severed ties with the National Rifle Association.
Over the past two weeks, a number of companies have severed ties with the NRA after pressure from social-media users to boycott brands that offer discounts and deals for NRA members reached a fever pitch. So far, rental car brands Enterprise, Alamo, National, Avis, Budget, and Hertz announced that they will be ending their NRA membership discounts. Delta and United Airlines also announced they would be ending their discounted rates, as has insurer MetLife, the First National Bank of Omaha, Allied and North American Van Lines, and a bunch of other major companies.
President Donald Trump said he would ban bump stocks through an executive order.
On Wednesday, President Donald Trump said the White House was drafting an executive order to ban bump stocks (a device that helps semi-automatic rifles shoot faster). Also on Wednesday, the president appeared to support suggestions about gun-control during a meeting with lawmakers from both parties, including strengthening background checks, raising the minimum gun-buying age to 21, and taking guns away from those deemed a threat before getting a court order. Trump also mocked Republican senator Pat Toomey for being "afraid of the NRA," before the president said that he is a "fan of the NRA. There's no bigger fan." But it's worth noting that Trump has a tendency to shift positions on issues he isn't passionate about (just like he did with DACA), so there's no guarantee that any of this will actually lead to substantial changes.
Some state lawmakers are proposing stricter gun-control legislation.
Since the Stoneman Douglas shooting, lawmakers in certain states have proposed legislation to tighten gun-control laws within their borders. For instance, in Rhode Island, Governor Gina Raimondo signed an executive order for a statewide "red flag" policy, with the aim of keeping guns away from those "who pose a danger to themselves," according to USA Today. Likewise, Vermont's Senate pushed forward a bill to take guns away from those deemed an "extreme risk" by the court (and Republican governor Phil Scott issued a five-page memo calling for stricter gun legislation). Florida's Republican governor Rick Scott has also proposed raising the minimum age to buy semi-automatic rifles.
Gun-control groups have seen a surge of donations and volunteers.
Advocacy groups fighting to strengthen U.S. gun-control laws have seen an increase in donations and volunteers across the country since the horrific Florida school shooting. In the first 24 hours since the massacre, the nonprofit Everytown for Gun Safety received $750,000 in online donations and had 75,000 people reach out about volunteering the following week.
We will continually update this post as more actions are taken.