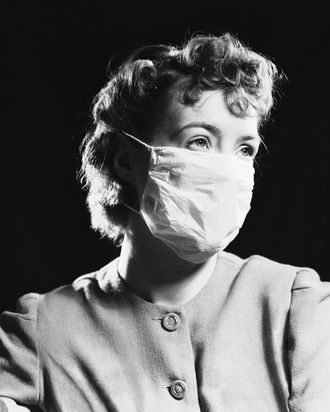 The flu has peaked.
Photo: Constance Bannister Corp/Getty Images
We can only assume that, like us, many of your co-workers ended up coming down with this year's dangerous flu strain at some point over the past couple of months. In fact, according to the Centers for Disease Control and Prevention, this year's flu was more widespread than last year's, and in February, one in ten deaths happening in the U.S. actually stemmed from the virus. But now, we're just a couple of weeks away from spring — a time we associate more with sun dresses than being stuck in bed with a fever.
So, do we still need to be worried about the virus? We chatted with CDC press officer Kristen Nordlund to find out whether the flu has peaked yet and if it still needs to be on our radar.
First things first, is it still flu season?
Unfortunately, yes. Although the 2018 flu season started earlier than usual, it's still going on (sigh). According to Nordlund, we can expect the flu to hang around until at least mid-April.
But has flu season reached its peak yet?
We (finally) have some good news for you: the 2018 flu season peaked by early February, Nordlund told us. "Based on the data, it looks like nationwide, influenza activity peaked around the end of January, beginning of February," she said. To determine flu season's peak, the CDC looked at outpatient surveillance — basically, people going to the doctor, emergency room, or outpatient clinic for flu-related symptoms. "It looks like those visits have started to go down now," Nordlund explained.
So, is flu activity going down everywhere (as in, specifically where I live)?
Well, overall the flu seems to be dwindling down, but there's still a ton of flu activity in certain parts of the country. Nordlund told us that activity is still high in the southern states — from Texas to Georgia — and along the east coast. We're also still seeing a bit of activity in the Southwest. But people living along the west coast and in the states bordering Canada are in luck: things seem to be slowing down a ton there. "We don't know why certain parts of the country get hit at certain times," Nordlund said. "It may have a little bit to do with weather and whether or not people are outside a bit more."
Huh. Well … does it mean that the flu is less intense if there's less activity?
Sadly, no. Part of what made this year's flu season so deadly is that the dominant strain was Influenza A-H3N2, which tends to lead to worse flu seasons than usual. That strain, according to Nordlund, seems to be slowing down, but in its wake we're seeing more people come down with Influenza B. "We've seen in past seasons, especially where H3N2 is the dominant strain, a second wave of Influenza B cases," she said. Nordlund added that Influenza B can still be quite dangerous, especially for young kids: "About a third of the pediatric deaths that we've seen this year are from Influenza B.
Oh god. So overall, I need to still be worried, right?
We hate to break it to you, but yes. "Knowing that where we are right now is where we were at the peak of last year, we just have so much activity," Nordlund told us. "Even though the disease might be out of the headlines, it's still something that people should be worried about, especially if they feel like they're getting sick."
Well then, how do I protect myself?
All you really need to do is follow your normal flu-protection guidelines. While it's always better to get a flu shot as soon as possible, you can still technically get the vaccine if you need it. And then, just use common sense: stay home when you're sick, avoid sick people, cough into your hands, and the usual. "If you're in a high-risk group – either at risk of complications for flu, very sick, or very old or very young — and your doctor prescribes you antivirals, make sure that you take those to lessen the severity of your illness," Nordlund added.