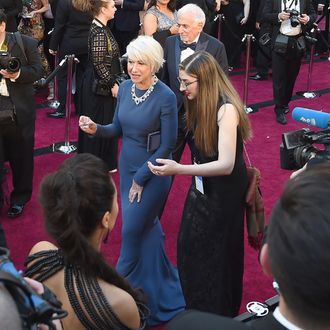 Helen Mirren with a shot of tequila.
Photo: Robyn Beck/AFP/Getty Images
At the 2018 Oscars, actress Helen Mirren proved that she doesn't just play a queen — when she (wisely) took a shot of tequila on the red carpet, the dame proved that she's clearly a queen in real life as well.
Mirren was apparently handed a shot of tequila after she arrived at Sunday night's Academy Awards ceremony. In a savvy move, she was photographed taking the shot before she chatted with the press. And understandably, people on social media were absolutely loving it:
We hope Mirren (who won an Academy Award for her portrayal of Queen Elizabeth II in 2007) is awarded another Oscar for this.