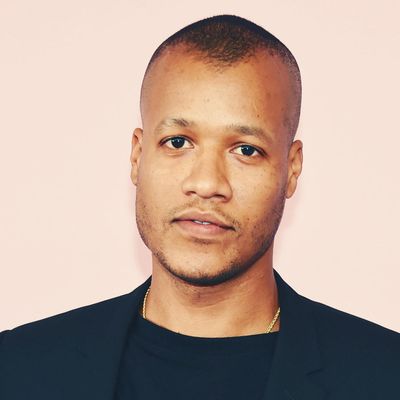 Heron Preston.
Photo: Dimitrios Kambouris/Getty Images
The last time we spoke to Heron Preston, he was interning for Eileen Fisher. Now, he's collaborated with the Moscow-based concept store, KM20 on a $594 bedazzled rhinestone T-shirt featuring Vladimir Putin's face on it.
[Insert skeptical emoji here.]
Putin's name has been in the news lately in connection to the potential hacking of the United States presidential election; nuclear warfare; and the alleged poisoning of a British ex-spy, among other things.
According to the American streetwear designer, however, controversy can be a good thing. "Some people hate me now and some people really love the T-shirt," Preston told WWD in an interview on Wednesday. "But I think it comes with the territory of having a point of view and I think that that is what makes a great designer or marketer — to stick with your beliefs and take risks. If I did not take risks, I think life would be a bit boring."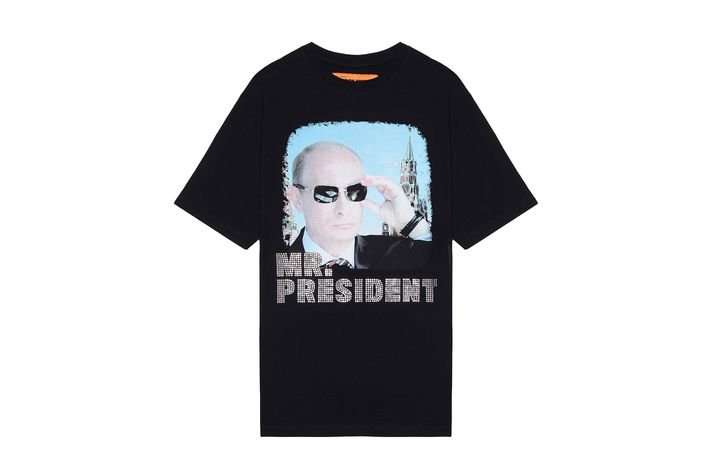 Preston goes on to explain that he was inspired by Russian souvenir T-shirts, which one can presumably purchase for a fraction of the price at tourist shops in the area. Notorious fashion troll Demna Gvasalia also riffed on tourist merch this season, producing a $1,950 Balenciaga bag that looks almost identical to one found at JFK Airport.
This is also not the first time Preston has been inspired by Russian culture. He is perhaps best known for his "СТИЛЬ" graphic shirts, which translates to "style" in English. Heron's "Mr. President" shirt also features the "СТИЛЬ" logo spelled out in rhinestones.
Olga Karput, owner of KM20, told WWD that she also wasn't worried by the potential controversy of these T-shirts. "I'm not afraid about the customer reaction because pleasing the audience was never a part of the strategy," she said. "KM20 was always the store to surprise and educate the customers, sometimes shocking them. I'm quite confident we are doing the right thing."
Well, if ruffling feathers was the goal, KM20 and Heron Preston have succeeded. "Putin comin' for ur head," wrote one commenter on Preston's Instagram. It's not clear, though, who exactly is being trolled and who is doing the trolling here. Is Putin the butt of the joke? Consumers for buying an expensive T-shirt with his face on it? The press for getting worked up about it? Preston himself? Or all of the above?
Maybe blurring lines is the idea, too. But I'm still not convinced. The recent success of high-fashion graphic T-shirts seems to have spread the idea that all statements are worth making — especially if they make money, which most of them do. To equate "political incorrectness" with being "not boring," which it seems like Preston is trying to do here, also feels dangerous to me.
It doesn't matter what I think, though. Russians go to the polls on March 18. According to WWD, Putin is considered a "shoo-in" for his fourth term as president.