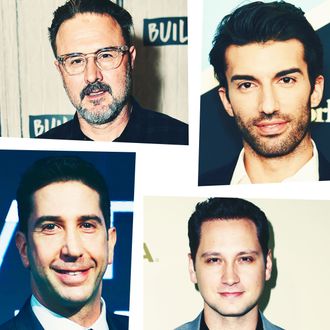 On Friday, a group of men in Hollywood launched #AskMoreOfHim, a movement aimed at helping to prevent sexual harassment and abuse, and to hold men accountable for their actions.
In an open letter published by Deadline, the group writes, "We applaud the courage and pledge our support to the courageous women — men, and gender non-conforming individuals — who have come forward to recount their experiences of harassment, abuse, and violence at the hands of men in our country." But, they add, awe is not enough. Per Deadline:
As men, we have a special responsibility to prevent abuse from happening in the first place. After all, the vast majority of sexual harassment, abuse, and violence is perpetrated by men, whether in Hollywood or not. And in entertainment — like many industries — men continue to hold most of the decision-making power. Therefore, one of the most powerful things that men can and must do is make it clear to other men — including their friends, colleagues, and co-workers — that sexual harassment and abuse are never acceptable. This goes for everything from sexist and degrading comments, right up to domestic violence and sexual assault.
The letter's signatories include David Schwimmer, Matt McGorry, David Arquette, and Justin Baldoni, as well as the groups A Call to Men, Futures Without Violence, and The Representation Project.
#AskMoreOfHim is the latest initiative to address sexual harassment and discrimination in a post-Weinstein Hollywood. But unlike #MeToo and Time's Up, which are more focused on empowering women, #AskMoreOfHim demands men take responsibility for their actions.
"As advocates, actors, writers, producers, and directors, we hope that our actions will inspire other men to join us," the letter concludes. "Until now, only a small number of them have been actively engaged in this effort. This must change. It's time we #AskMoreOfHim."