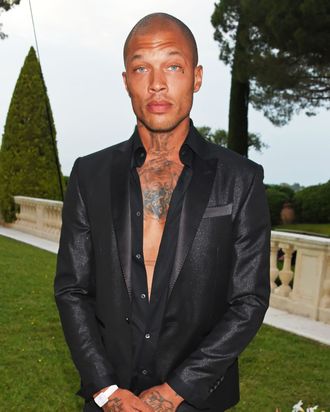 The Hot Felon.
Photo: Dave Benett/amfAR2017/Dave Benett/Getty Images for amf
What a life "Hot Felon" Jeremy Meeks has had. After his mug shot went viral back in 2014 for possessing an illegal firearm, he has walked in New York Fashion Week, befriended a Hadid, and even partied with Nicki Minaj. And, almost miraculously, Meeks is about to get even hotter: He's going to be a hot felon daddy.
The scoop comes from Us Weekly, which learned from multiple sources that Meeks and his Topshop-heiress girlfriend, Chloe Green, are expecting. Meeks and Green have been aggressively PDA-ing on boats and beaches since at least June 2017, months before the Hot Felon divorced his estranged wife, Melissa.
While Meeks technically has a biological son and two stepsons with Melissa, this will be his first child with Green — and our first opportunity to gawk at photos of Meeks cradling a non-felon baby. In 2016, he told the Cut that he wants to be a good role model for his kids and, perhaps for the better, doesn't want his kids to be Hot Felons like him.
"I don't want them to think, My dad is that, so I have to be that," he said.
He is, truly, one of a kind.