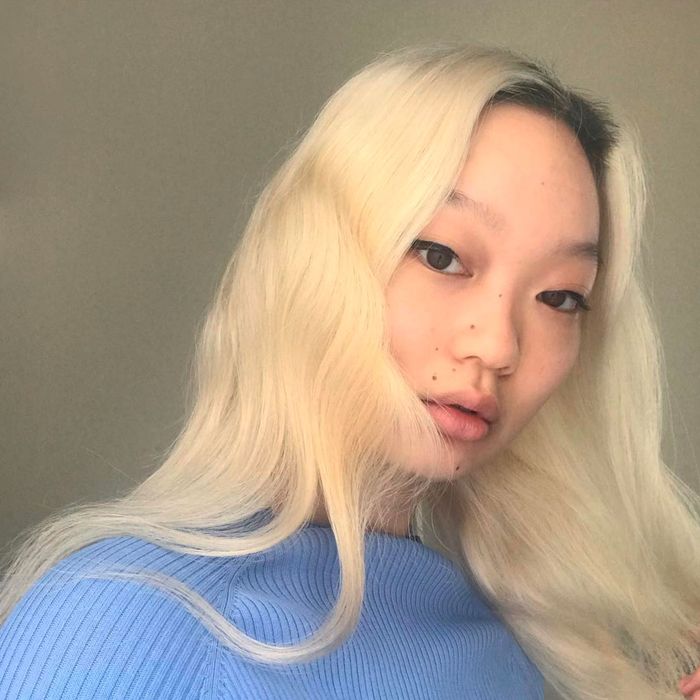 Do you ever see someone on Instagram and think "Why is your skin so good?" We do, so we started asking. Welcome to Why Is Your Skin So Good, a series.
If you haven't seen Jessica Wu on Instagram, perhaps you've seen her on the Glossier site or on Apple's iPhone ads. Wu is a producer and stylist in New York who also works frequently as a model. We spoke to her about how she keeps her face glowy and clear all year long.
"Over the past few months I've had some skin problems, like hormonal breakouts and hyperpigmentation," Wu told the Cut. "I've learned that less is more. If you focus on the quality and intent of each product you're using, you can create a great skin-care routine with fewer products."
The Cleanser
"After I shower I always cleanse with cold water. This cleanser is non-foaming and deep cleansing and really great for everyday use."
The Exfoliator
"I exfoliate three times a week, which is probably more than most people. I use this rice powder from Tatcha, because it's not too harsh. It doesn't have those microbeads. It doesn't dry out my skin."
The Essence
"This elixir comes in a spray bottle, and it's based off this old pharmaceutical company that started in Korea in 1897. This is their 'secret recipe.' For me it functions great as a toner and serum. I spray it on and pat it in there. It doesn't have a super strong smell."
The Serums
"I just picked this up after getting a sample from my sister. When it's feeling really harsh and wintery outside, it's so great, but it's good for everyday use too. After I apply this I have to wait for it to settle into my skin because it's watery. And I think that's important to keep in mind to really let products settle into your skin."
"I use it during the day and the night. When I put on my skin care, I always emulate the method of the makeup artists I work with, which is massaging and pressing the product into your skin and not pulling too much."
The Moisturizers
"Augustinus Bader makes really amazing, rich cream. The formula and whole brand is based on stem cell stimulation and rejuvenation. Some people just use this with nothing else in their routine, which I did for a little, but I felt so naked."
"I've been using this for years now. It keeps your skin feeling super elastic and hydrated. A little bit goes a really long way with this one. I also apply it to my neck, because your neck is connected to your face and it's really important to take care of!"
The Everyday Face Makeup
"SPF has helped with my hyperpigmentation so I always look for products with sunscreen. This primer has SPF 50 in it."
"This is great for finishing up your look without making it look super matte, because I love dewy natural-looking skin."
If you buy something through our links, New York may earn an affiliate commission.