Because no two paths to parenthood look the same, the Cut's How I Got This Baby invites parents to share their stories. Want to share yours? Email gotbaby@thecut.com and tell us a bit about how you became a parent.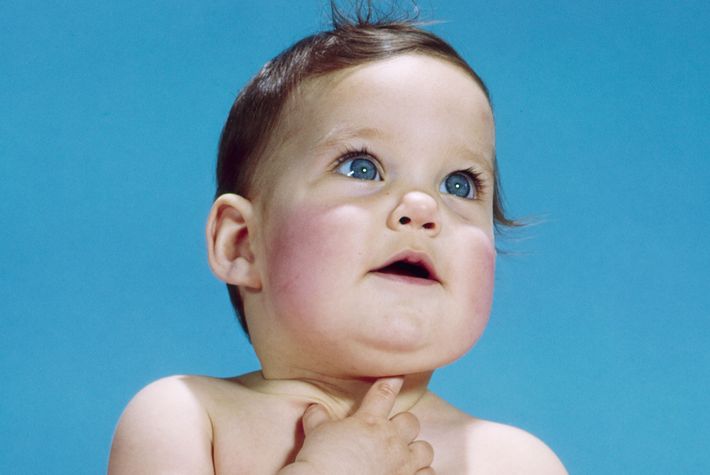 Just days after he proposed, Brad's now-husband asked whether he wanted to have kids. Brad was almost surprised to find out that the answer was yes: He hadn't thought very much about parenthood before, but once he did, he knew it was something he wanted. He discusses diving into surrogacy, an emotional change in egg-donor plans, the reason they tried for twins, and the many unexpected aspects of the day his children were born.
On deciding to have kids. A few days after I proposed to my husband, he brought up having kids. It wasn't something we'd really talked about before, but I told him wow, the answer was yes. Once I thought about it, I knew I didn't want to live the same life forever. For my husband, it was a bit different — he'd really thought about having kids before and knew he wanted them. Just six months later, we started the process in earnest.
The honest truth is I never pictured myself as a parent. Being gay, there were no role models for me, growing up; it was the same for my husband. We never imagined ourselves having families, being married, having kids. As a 10-year-old gay boy from Indiana, I was more concerned with how I was going to get through life than wondering whether I'd have a family someday. I didn't know any gay people with kids — I barely knew gay people. Even today, it's a little bit hard to find, especially in my age group. I'm 36, and most gay people I know are in their late 40s or early 50s when they first start this whole process.
On deciding how to have kids. When I told my husband I wanted to have kids, I had assumed adoption. But he'd actually meant pursuing surrogacy and having genetically related children. We didn't have any huge fights about this, but we were not initially on the same page. My original thought was that adoption would be the way to go — there are already children in the world, that line of thinking.
My husband saw things a little differently. His parents immigrated from India in the '70s, and his family has a very strong cultural connection to India. As gay men, we're not allowed to adopt a baby from India. My husband really wanted to have a child who would feel a connection to his heritage and culture; he didn't think that adoption would make that connection impossible, but he thought it would make it harder. His family got involved as well, and also wanted us to have genetically related children. I wasn't bummed at all — as a white guy from Indiana, this was something I deferred to.
On starting the process. Our first step was finding a surrogacy agency. We checked a website called Men Having Babies, which has a list of agencies. The costs vary wildly — because the kinds of services included vary widely. One of the cheaper agencies, for example, looks appealing at first, but doesn't actually offer that many services. Insurance review is one of the services sometimes left out of what an agency provides. This is an important factor because many insurance companies have surrogacy exclusions; they will not cover a surrogate's prenatal care specifically. If that's the case, the cost of the paying for all of a surrogate's prenatal care out-of-pocket would be exorbitant.
Our next step was to pick out an IVF clinic. We needed to get our sperm checked, to make sure we had viable semen that could inseminate an egg. Initially, we thought we didn't need an egg donor agency because my sister-in-law was going to donate her eggs to us. Unfortunately, that did not work out.
On an emotional shift in their plans. I call her my sister-in-law, but she's actually my brother's ex-wife. I'm very, very close with my nephew, who's 6 now, and I remain close with her. It was a tricky process: I wasn't sure how she would feel, and I wasn't sure how my brother would feel. We eased into it as sort of a joke — my nephew is the spitting image of me, and we used to say, Wouldn't it be funny if you were our egg donor and there was another kid who looks just like me? And then it turned into, Wouldn't that actually be funny? How funny could it be?
We ended up calling her one night and saying, "You know, this started off as a joke, but now we think this might really be amazing." She told us she needed to think about it and do some research; we told her of course, take your time. A few months later, we went to visit them for Christmas. She got us a gift, which was a picture frame with an egg on it that said YES inside. She told us she loved us and there was no reason she could think of to say no.
That was the initial yes, and we filled it out with details over the coming months. We wanted her to be more like an aunt, and we weren't sure how she would feel about that. But she was very amenable: She said she thought it would be amazing to be part of our kids' lives, but that she did not want to be a mother to them. We really loved the idea that we'd be able to point to our children's aunt someday, and explain that she was the one who helped us have them.
We got the entire process going, and then when she went to the clinic to have her egg retrieval, the doctor told her she'd produced no eggs. They told her, flat-out, she could not be an egg donor for us. We were all bawling. It took me several months to not feel emotional about it.
Meanwhile, our surrogacy agency had found a surrogate for us. She was on injectable medications, waiting. She'd been operating under the assumption that my sister-in-law's eggs would be ready to be implanted within days. Everything had been aligned perfectly for this original plan. To prevent having to wait another cycle, we had about one week to choose an egg donor.
On choosing an egg donor. We went through four or five egg-donor agencies, looking through all their profiles. It really is like online dating: You see a bunch of pictures and profiles. People write their own testimonials about themselves, and with that, you get medical history, psychological evaluations, and often times, test scores. The cost varies; if they're taller and thinner and have higher test scores they're going to be a more expensive donor. It was such a crude and jarring process. We went from having a very emotional connection with our donor to not having anything but flat data to look at.
For us, now that we were going back to the drawing board, race became a factor. Because this process is so complex and hard to figure out, we wanted our children to be able to point to us and see people who looked like them. My husband is a dark-skinned brown man, and I'm white, so we tried to think of what our babies might actually look like, if we could make them with just the two of us. Weeding out white donors narrowed down our choices tremendously.
The only other factor we decided to base our choice on was test scores. We'd thought a lot about whether that mattered — my sister-in-law, for example, is currently in college. Test scores hadn't necessarily been a factor in choosing her. But our thinking was, we don't know these women. Test scores are one of the very few available pieces of data we could look at, so we did.
Finally, we found what we believed was the perfect donor: a Persian woman with very good test scores. There had been another that I was very keen on but my husband wanted to keep looking; while we hesitated, she was snatched up by someone else. When we found this donor, we were both in immediate agreement, and called up the agency and basically asked what we needed to do to secure her so no one else took her.
Then our surrogate flew out from the West Coast to our IVF clinic on the East Coast for the implantation. This was the first time we got to meet her in person. She flew out here with her husband, and they were just lovely. This was all on our dime — Uber rides and hotel stays — so we were really hoping this would work. The implantation itself was $8,000.
Our egg donor had produced 16 eggs, which is a good amount but not an amazing amount. Eight were fertilized with my sperm; eight were fertilized with my husband's sperm. Then we genetically tested the embryos. At every step of the way, some of the embryos die — you retrieve the eggs, some eggs die. You fertilize eggs with semen, some of them die. You wait for them to grow for five days before implanting — some of them die during those five days.
Still, we were lucky: We had eight embryos to choose from, in the end. We asked for the best embryos to be implanted.
For us, going for twins was mostly a financial decision. Twins cost $5,000 extra. That's what you have to pay the surrogate — just $5,000 extra, and that's only if both embryos take. There's no extra cost to the agency, with the egg donor, with the IVF clinic. It's just $5,000 one time. It's this, versus going through the whole process — emotionally and financially — all over again. We knew we wanted two children, one genetically related to each of us. Had this not worked the first time, we were prepared to go through it all over again.
Because of the increased risks that come with twin pregnancy, our fertility doctor recommended implanting one embryo at a time. My husband is a doctor; he'd done a lot of research into the risks, and we did decide to go for it. Even since we did this process, our clinic has moved even further away from doing dual-embryo transplants. I've talked to friends currently going through the process who say that clinics really don't want to implant more than one at a time now.
On the first and second trimesters. I was traveling for work, and my husband was at home when we got the call: Our surrogate had gone to her follow-up appointment, and she was pregnant. I remember my husband had this maniacal laugh. Throughout, he was the hopeful and optimistic one; I was a little more worried it wouldn't work. You could tell that he was so excited but once that excitement panned out, it turned into nervousness. Like, oh shit … this is real. He couldn't stop — he just laughed through the whole call.
We then entered what I think is the truly nerve-wracking part: the first trimester. Once we made it through that — there were still two, with healthy heartbeats — we started thinking practically. We had a one-bedroom apartment, so we needed to move. We needed to figure out what the babies' names would be.
On the third trimester. At around 28 weeks, we got the call that our surrogate had started massively bleeding. I was just about to get on the subway, and I spent the whole ride home trying not to sob. At home, we were able to get on a call with her and find out more details: She had placenta previa, which meant her placenta was covering her cervix and causing the bleeding. She had to stop working and go on bed rest for two weeks. She couldn't lift anything, not even her children. Her daughter was 2 and a half at the time, and she wasn't allowed to pick her up, which was very heartbreaking. From that point on, the pregnancy was nonstop nervousness.
But we were very lucky: A huge risk of placenta previa is premature birth, but she didn't go into labor until her water broke at 36 weeks. It was amazing she made it that long, especially given that it was twins. We'd flown out thinking we'd have a few days before the birth, which was scheduled to be a C-section five days later. We got in at midnight — her water broke just four hours later.
Being in the hospital was surreal: We ran out the door in basically our pajamas. I was wearing a tank top; I hadn't brushed my teeth. She was exhausted, and the contractions were coming every few minutes. We knew she was going to have a C-section because she'd had two already. It was just a matter of waiting for all the tests and doctors to be ready. She was in pain, but still, the atmosphere was excited — we were guessing the weights of the babies, guessing whose would be whose. Then they wheeled her away to go into surgery. She was only allowed one person in the room, which was obviously her husband.
On the most intense feeling. While she was in surgery, we were in the next room over, making a video to show our kids in the future. Then her husband came in, pale as a ghost. He said, "Something's wrong." And of course, our hearts sank. He said, "Your babies are fine. It's my wife — there's a lot of blood."
He was sobbing, and we're hugging him and crying, and at that moment, they wheeled in our babies. The feelings of devastation and elation at once was the most bizarre feeling I've ever had. I was comforting the husband of the woman who made it possible for us to have children, and I was also about to meet my children for the first time. We didn't know what to do — should we stay and comfort him? Should we scream in excitement and meet our babies? He said, Go, go, go, meet your babies.
She ended up needing an emergency hysterectomy. What had happened was that her placenta and uterus had fused together. She was as gracious as you could possibly be, and said that she wouldn't have changed anything, that she felt she was meant to help bring our babies into the world to be with us. That this happened was especially heartbreaking because while we were waiting for her to go into surgery, she told us that being pregnant had made her want to have a third child of her own. Little did we know that just moments later, that possibility would be taken away from her.
Our daughter was born small, at just 3.5 pounds. She needed to stay in the NICU for about two weeks to bulk up, while her brother, at 5.5 pounds, was discharged after just three days. Overall, the day was kind of terrifying — the emergency hysterectomy was nothing we were expecting, and the babies were much tinier than we thought they would be. Three and a half pounds is very, very small. My daughter looked like skin and bones. I thought I'd be exhausted and elated, but I mostly felt exhausted and scared out of my mind.
On parenthood. All in all, we paid $171,000 for our children. It was an incredibly involved process — there's no sense of "let's do this and see how it goes." You have to be so committed and focused on details and financially capable. In some ways, it's unfair. I wish that gay men and women had easier choices, more financially available choices to have children. Unfortunately, the choices available are just not for everyone.
But there are upsides: The coolest thing about being gay parents, in my opinion, is that we don't have a socially or biologically assigned primary caretaker. This has created an incredibly egalitarian system of parenthood for us. There are two of them, so of course it's all hands on deck, but there's no reason it should be one of us more than the other. There's not one person who's up all night with them. It's both of us. To me, that's the best part about being gay parents — it really is 50-50.
I'm sure many parents can say this, whether they go through IVF or miscarriages or other obstacles: But sometimes I look at my kids and think about how much effort and how much meaning and intention there was in bringing them into the world. I think about the years, money, and tears it took to get here. They were worth all those tribulations.