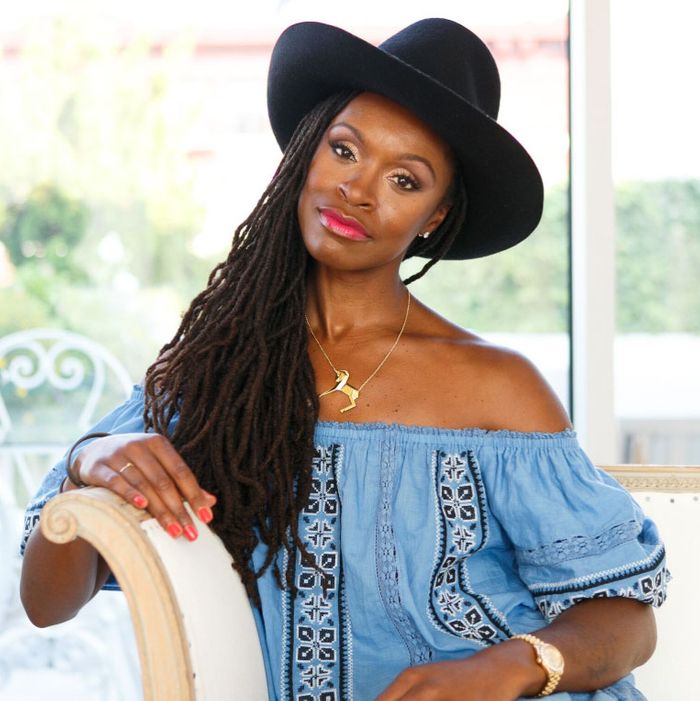 Latham Thomas.
Photo: Syed Aqeen
Do you ever see someone on Instagram and think "Why is your skin so good?" We do, so we started asking. Welcome to Why Is Your Skin So Good, a new series.
Latham Thomas is the founder of Mama Glow, a holistic maternity lifestyle brand. She's also a mother and a doula. Maybe you know Asahd Khaled? She delivered him.
With that job description, it's not a surprise that Thomas has a dreamy hippie skin-care routine. She also believes in maintaining daily routines outside the bathroom. "Creating your own ritual practice is easy," Thomas told the Cut. "Start with identifying what brings you serenity each day. Treat yourself to a moment of silence; curiosity seeds your consciousness when the mind can be still."
Sleep helps, too: "Sleep is one of the most important elements for good health and amplifies your glow," says Thomas. "I eat a plant-based vegan diet and that means a lot of vegetables, fruits, green juices, and water with lemon. It works for me, but everyone should explore what's best for their own body. I incorporate exercise into my day — yoga, dance, or long walks — plus I live in a four-story townhouse so I walk the stairs constantly."
Read on for her favorite products and treatments.
The Spa Treatments
"I believe in practices like sauna and steam to help cleanse the body and clear the skin. Massage is also helpful in keeping radiant skin while working out the kinks in the connective tissue."
The Makeup Remover
"If I'm wearing makeup, this is always my first step at night. There are no synthetics and it's vegan."
The Scrub
"Sometimes I combine this with a cleanser to scrub my face once a week and exfoliate. It's made with sandalwood and saffron."
The Toner
"This protects against breakouts and smells so nice."
The Oil
"I use a few drops of this and it fortifies my skin for the day."
The Body Exfoliant
"This is an incredible exfoliant that leaves your skin smooth. And it's gentle enough to use every day!"
The Body Oil
"Our best-selling product. Skin drinks in this oil, and it's a perfect self-care ritual after you shower."