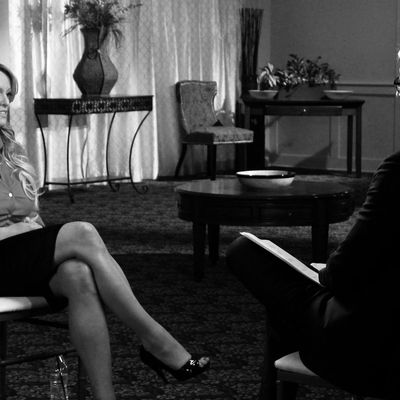 Stormy Daniels.
Photo: CBS Photo Archive/CBS via Getty Images
Leading up to the airing of her first full-length interview on CBS's 60 Minutes Sunday evening, adult-film star Stormy Daniels told the Washington Post how her career in porn has helped her handle being constantly in the public eye.
It was not even three months ago that The Wall Street Journal published the bombshell report claiming that Donald Trump's lawyer had paid Daniels $130,000 to keep quiet about an alleged sexual encounter. Since then, Daniels has launched the "Make America Horny Again" tour, filed a lawsuit to speak about her alleged affair with Trump, deftly shut down Twitter trolls, and sat down with CBS for a highly-anticipated 60 Minutes interview that's airing tonight.
In conversation with the Post on the eve of 60 Minutes, Daniels admitted that while her career in porn has unintentionally prepared her for some of the attention she's received in the past few months, it hasn't been easy.
"Being in the adult industry, I've developed a thick skin and maybe a little bit of a dark sense of humor," she said. "But nothing could truly prepare someone for this."
She also said her day-to-day life has dramatically changed since the Wall Street Journal report — as a wife, a mother, a friend, and even an equestrian. "Without a doubt it's cutting into my horse show time," Daniels told the Post.
And despite accusations made by her critics, Daniels maintains that she's not speaking up about her alleged affair for "any sort of approval," but because her personal truth deserves to be heard.
"I didn't do this to get any sort of approval from anyone or recognition," she said. "I simply wanted to tell my personal truth and defend myself."