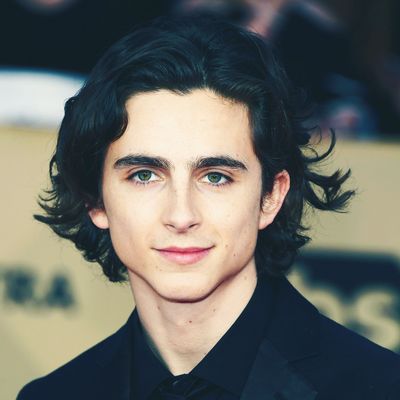 Timothée Chalamet.
Photo: Steve Granitz/WireImage
I don't begrudge Timothée Chalamet his talent, but give me his hair. In the past few months, as Chalamet made the awards-season rounds, he displayed the charm of a wide-eyed newcomer taking it all in, with humility and really excellent hair texture. I wasn't the only one to notice. GQ called his hair "once-in-a-generation" hair. I jokingly posted an Instagram about wanting his perfectly disheveled hair, only to get a flood of DMs from other people wanting the same.
Even putting aside everyone's crushes on him, his hair is pretty epic: A slightly unruly, wavy, swoopy mass that recalls anime dream boys and isn't formulaic enough to look like anything you could order up at Drybar. Much like seeing a man with extraordinary lashes or poreless skin who has done nothing to "get it," it seems borderline unfair that a dude should be so naturally awarded a gift of female beauty standards in the genetic lottery. But can you hack it? To find out, we talked to editorial hairstylists, Thom Priano and Tamas Tuzes, who worked with him recently on shoots. Here are the keys to getting Timothée Chalamet hair.
1. Be born with it.
Much like his bone structure and his acting chops, his hair texture is God-given and unfortunately, doesn't come in a bottle. Priano, who worked with Chalamet for the GQ shoot explains, "Timothée has an amazing head of hair … it's very pliable and you can do most anything with it." Tamas Tuzes, who styled Chalamet for his New York Times shoot agrees calling it "dream hair," and a little "cheeky."
Both describe it as medium texture, with a slight, natural wave pattern (but not curly), and healthy. Priano clarified that his hair "doesn't even have frizz." Also notable is the quantity of Chalamet's hair. He has "a lot of hair," something that both hairstylists repeatedly emphasize during my interviews with them. "A lot," Priano said multiple times. Must be nice.
2. Use the right shampoo.
You may not be able to buy Chalamet's hair, but you can try to use some products for a similar result. The night before his GQ shoot, Priano had the actor wash his hair with a cleansing conditioner. Unlike a regular shampoo, a cleansing or foaming conditioner doesn't contain sulfates, an ingredient that suds up the hair (via a detergent) but is more abrasive.
Cleansing conditioners are gentler and have emulsification factors, which wash hair in a smoother, less rough manner. This is particularly good for those with natural texture like Chalamet. If you want to know what his hair smelled like (at least for one night), it's R + Co's Analog Foaming Conditioner.
3. Add some cream.
Creams give hair more pliability and hold. Both hairstylists raked a cream throughout Chalamet's hair during their shoots. Tuzes used a styling creme, while Priano used a shine and grooming creme. "It flattened his hair out, so it wasn't too puffy," Priano explained.
Most people would think that a wave spray or even perhaps a sea salt spray would be the best way to replicate Chalamet hair. However, his hair is so naturally voluminous that if you were to use a spray, it would become even bigger. "I didn't need to build up his hair, I needed to take it down," said Priano. Should you have the same blessed problem, here's what they used.
4. Add some heat.
A blow-dryer (set on low) helped "set" his hair and activate the styling creams. As Chalamet's hair already looks pretty great naturally, both groomers only wanted to give it a little more polish, a male version of "no-hairstyle hair." "I wanted it to look like his hair, but not styled," said Priano.
Much like putting a no-makeup makeup look on Gisele Bündchen, they continued to perfect what was pretty much already perfect. They groomed Chalamet's slightly so it wouldn't hang or get in the way of that face, which can emote for the full five minutes of a Sufjan Stevens song. They then used their hands (not a curling iron, because again, Chalamet already naturally has the perfect-looking, slept-in looking, second-day hair) to encourage and perfect the curl of bits and pieces.
5. Create some waves.
For everyone else, if you have straight hair or want texture like Chalamet's, it will take some work. The key is to not to create formulaic waves, the kind in which you can tell exactly how and what direction they were twisted around the curling iron. Priano suggests two ways to do this. One is creating finger waves (like the S-waves seen on Lady Edith in Downton Abbey) and breaking it up. This is a fairly intensive process.
The second way is to use a larger barrel iron or wave and haphazardly coil different sections around the iron. Immediately after, pull the hair, so that it loosens from spiral to wave. Try your best to make sure you don't bend the hair around the iron at the same place each time so that it looks natural (That's right, the secret to Chalamet hair is to be consciously random and consciously unpredictable — wrap your brain around that as you wrap your curls). Or maybe just bring some photos of Chalemet from Call Me by Your Name to your next styling appointment, ask for the Elio, and call it a day.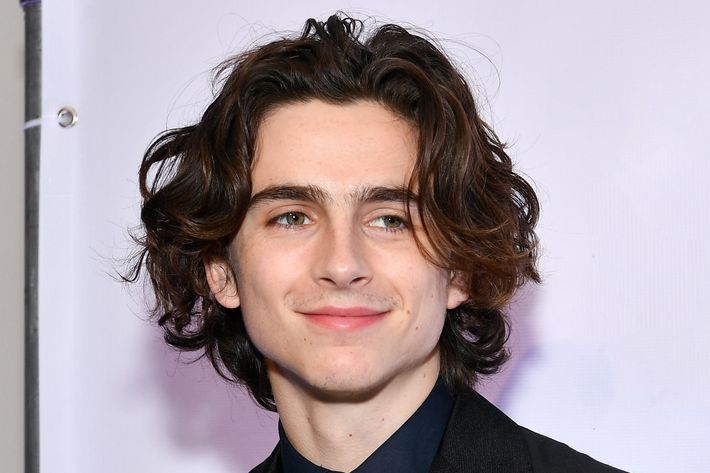 If you buy something through our links, New York may earn an affiliate commission.