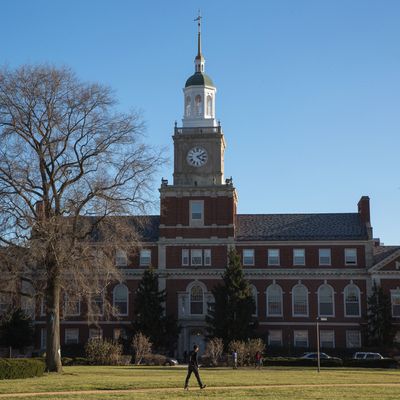 Howard University.
Photo: Evelyn Hockstein/The Washington Post/Getty Images
Howard University students, rightfully angered over revelations of a major financial aid scandal at their school, borrowed some of Rihanna's wisest words to deliver a message to their administrators today: "Bitch better have my money."
Howard University has been embroiled in a major controversy since an anonymous writer posted a report on Tuesday alleging that school employees had misappropriated $1 million in financial aid. Wednesday afternoon, the school president confirmed the accusation, and today, students stormed their administration's building to decry the reports.
In a Twitter video captured by HuffPost editor Philip Lewis, a packed room of students sing and dance along to the 2015 banger. While the scandal is infuriatingly bad, the collective action is inspiring and unarguably good.
We eagerly await both Rih's and the administration's responses.