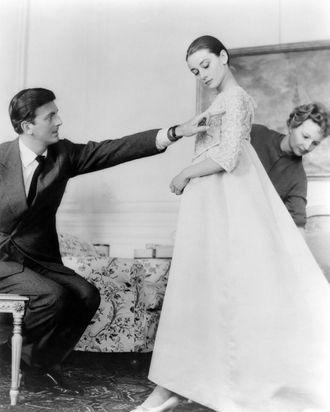 Photo: Sunset Boulevard/Corbis via Getty Images
Even if you're not a fashion buff, you're likely familiar with the work of the late Hubert de Givenchy.
When the French designer's death was announced on Monday, (he was 91), the world was reminded of his contributions to both fashion and cinema, namely through his association with the actress Audrey Hepburn.
That little black Breakfast at Tiffany's dress everyone re-creates for Halloween? Hubert de Givenchy designed it. That red "winged victory" gown Hepburn wears in Funny Face? Givenchy. That pale-pink baby-doll dress she got married in? Him, too.
That being said, Hepburn was more than just Givenchy's muse, and Givenchy was so much more than just Hepburn's favorite designer. The two met at the start of their respective careers — both in their mid-20s — and remained the closest of friends until Hepburn's untimely death in 1993.
As evidenced by Givenchy's designs for Hepburn — as well as his other famous clients, including Jacqueline Kennedy Onassis and Gloria Guinness — he had a unique ability to balance complexity with refinement.
"Hubert de Givenchy created an elegant and restrained style based on simplified forms and clean, precise lines," Pamela Golbin, chief curator of the Musée de la Mode et du Textile, told the Cut on Monday. "Following in the great haute-couture tradition, he adapted techniques and fabrics to satisfy the needs of his clientele. Two names will forever be associated to his: that of his muse, the actress Audrey Hepburn, and of his mentor, the Spanish couturier Cristóbal Balenciaga."
Givenchy and Balenciaga were close throughout the 1950s, sharing an eye for bold silhouettes as well as a keen interest in color and material. Together, they offered an alternative to postwar French houses like that of Christian Dior and his "New Look." Their designs were just as flattering, but also gave their larger-than-life clientele room to live and breathe.
Today, the aesthetics of Balenciaga and Givenchy live on through their successors, Demna Gvasalia and Clare Waight Keller, both of whom have made an effort to reimagine the designers' respective signatures. In fact, Waight Keller, who joined the house of Givenchy in 2017, met Mr. Givenchy himself at his home in Paris last fall. According to Cathy Horyn, she is likely the only Givenchy artistic director ever to have done so, although this has not been confirmed.
"There's a real sort of old world presence about him," Waight Keller told Horyn in an interview before the designer's haute-couture debut in January. Mr. Givenchy was reportedly very pleased with this revival, telling Waight Keller: "I believe [couture] is the heart of what French fashion is." Givenchy's debut couture collection introduced the idea of "separates" to the craft, and Waight Keller tried to be equally smart about her approach.
According to Waight Keller, Mr. Givenchy was still interested in what was going on in fashion at the end of his life, but "dipped in and out," only looking at things when he wanted to. He didn't pay "so much attention" to the last decade or two in particular, telling Waight Keller that he didn't "understand it." In other words, he felt disconnected from what was going down the runway under the direction of Julien Macdonald and Riccardo Tisci, despite the brand's continued success.
It feels right, then, that Mr. Givenchy lived to see his house restored to some semblance of what it once was. Truly filling his shoes, however, is still something nearly impossible to ask of anyone.
Below, see how Clare Waight Keller and the rest of the fashion industry paid their respects to Hubert de Givenchy.