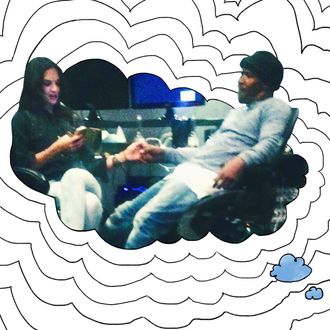 I Think About This a Lot is a series dedicated to private memes: images, videos, and other random trivia we are doomed to play forever on loop in our minds.
During a recent weekend sojourn on the internet, I came upon a photo that stopped me in my tracks — not because it was new, but because it's so familiar to me, it was like looking at a friend's photo album. It's a grainy camera-phone picture of two barely recognizable movie stars wearing normal clothing (real normal, not I-happen-to-be-walking-up-a-beach-in-a-bikini-with-full-hair-and-makeup normal). The woman is looking at her phone, smiling, with her legs crossed. The man, the side of his face visible to the camera, is regarding her with an amused expression. His stretched-out legs appear to be playfully straddling the woman's chair, although it's hard to tell if their feet in the foreground are actually touching. In the center of the image are their hands, casually locked together. It's an incredibly intimate moment, rendered even more so by its banality.
For years, this photo has been appearing and reappearing on social media and gossip blogs and on my internet browser tabs. It was taken in a recording studio in 2015 — and the lovers are Jamie Foxx and Katie Holmes.
So, who cares if Jamie Foxx and Katie Holmes were together, are together, are in a committed relationship, or a casual one? Me, it seems. While I could not name a single fact about either person — beyond, of course, the Tom Cruise connection — this picture occupies a special part of my brain. And it's not a part of my brain that I've ever really talked to other people about.
Jamie Foxx and Katie Holmes belong to a small subset of celebrity couples who choose not to capitalize on the brand synergy possibilities of their union, making their relationships the stuff of gossip legend. Per the internet, the first sign that they could be an item came in August of 2013, when they were spotted dancing together onstage at a party in East Hampton. (Also onstage were Pharrell and Ellen DeGeneres, so this is hardly definitive proof.) Foxx said as much as few months later in an interview — calling the rumor "one hundred percent not true" — but he had been very secretive of his relationships in the past, not even spilling the names of the mothers of his children. The blogs were silent until the 2015 picture emerged, and then the floodgates opened for unnamed sources close to one or the other, speculating that "this is not some intense romance" and "Jamie is someone she can trust and have fun with" and it's "not a secret among their friends." They've broken up and gone public and been outed by a former Real Housewife — all without actually saying a word to an actual reporter or posing for a picture on purpose.
Again, what is the point? These celebrities owe us nothing. The pleasure is two-fold, I think. One, following the dogged internet sleuths examining the social accounts of rumored couples like Carrie Brownstein and Abbi Jacobson or Ronan Farrow and Jon Lovett is just deductive fun. These are fans, not haters, and as anyone belonging to the Facebook group for the celebrity podcast Who? Weekly knows, they are persistent, thorough, and creative researchers. That's the thrill of discovery.
But what keeps me going back to the Foxx/Holmes well is the deep mystery. Will we ever really know what was going on before and after they were in that recording studio? (Similarly: will we ever get a real account of the Beyoncé elevator?) To have all the cameras in the world trained on these famous people and still not get answers is tantalizing. The fact that these people are strangers to most of us, that the stakes are personally low, doesn't mean that it doesn't matter. It just makes it a puzzle.
Embarrassing as it is, I look at that picture and see two people who can't keep their hands off each other. Its authenticity cuts through a million staged pap shots, Instagram #spon, Taylor Swift "candids," and the like. It delivers on the original promise of celebrity gossip to buck film-studio narratives. It's real.