Welcome to happiness. It's not your own, but you can visit. It's Disneyland, where Opening Ceremony is showing their spring 2018 clothing collection for humans in Toontown. "WELCOME TO THE HAPPIEST SHOW ON EARTH!" It's both introduction and instruction.
Before their show starts, the Opening Ceremony brain trust, founders Carol Lim and Humberto Leon, provide each seat with a Mickey Mouse cap. The Mickey ears are a litmus test about vanity, silliness, and group-think. Choices are highly revealing. Some people put on the hat, some keep them on laps like pets, some stuff them under their seats, some people hook them to fanny-packs used as shoulder bags. Chance the Rapper placed his Mickey ears over his signature 3 hat. Truly, the man has no outer limit to his sense of joy.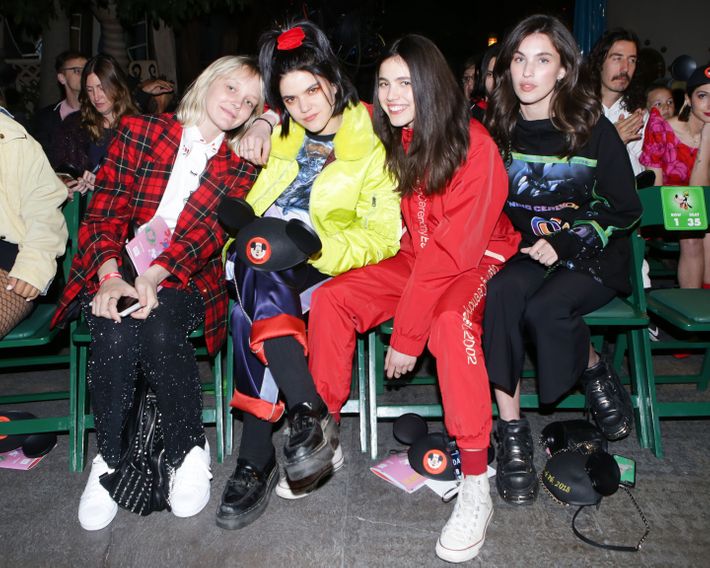 Wearing either too many or two few items of clothing is signature to the cartoon universe: Donald Duck's shirt with no pants, Mad Hatter's whole layering system. It's part of the play. One party guest in a white suit has gloves that are big Mickey hands. He is dancing every time I see him. Humberto, I learned, wore a Mickey Mouse tie and cummerbund to his senior prom. At the show, Maya Rudolph's purse is a flattened 2-D crescent moon. Clothing-as-sight-gag abounds.
Augmented ears and giddy ambiance lends a high quality of eavesdropping at this party. I overhear Laverne Cox say it's her first time in Disneyland. I sidle on up, because it's my first visit too, and I tell her I learned this from loitering in her orbit. "Eavesdropping is lots of fun!" she says. We have two things in common. "You have to be careful what you say around whom, though," she warns, "sometimes I get real candid in the Lyft and sometimes the drivers might spill cheese. There is not a partition in the Lyft. Driver roll up the partition please," she sings. Then she tells me she hates roller coasters, and that's the end of what we have in common.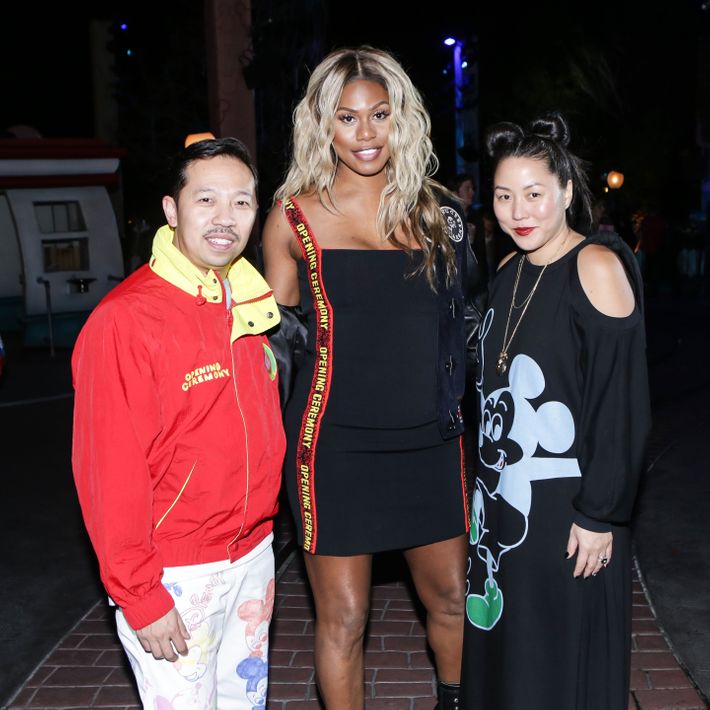 Disneyland has many modes of transport: roller coasters, monorails, useless cars, various boats. They are, at 10 p.m. on a Wednesday, filled with models like Lucky Blue and notables like Diplo and regulars like me. At one point, the captain of a tiny board tells me that people can enter a magical world one of two ways: "Pixie dust or down a rabbit hole." The Opening Ceremony show asks, why not both? Wear glittery Birkenstocks and furry red coats – you never have to choose just one.
Opening Ceremony's spring clothes aren't limited by their Disney references, though the mice and the Disney font appear on several Opening Ceremony items. Many other items, the designers note, are "inspired by the poet Adrienne Rich's ruminations on the relationship between humans and the environment." These shirts and dresses come in reasonable light blues. There are solid and swooshy white cowboy boots. Knits. I'm informed these clothes reflect the "optimism of the 1970s." The '70s may or may not have been a time of optimism, but I do agree that everything is optimistic in Disneyland.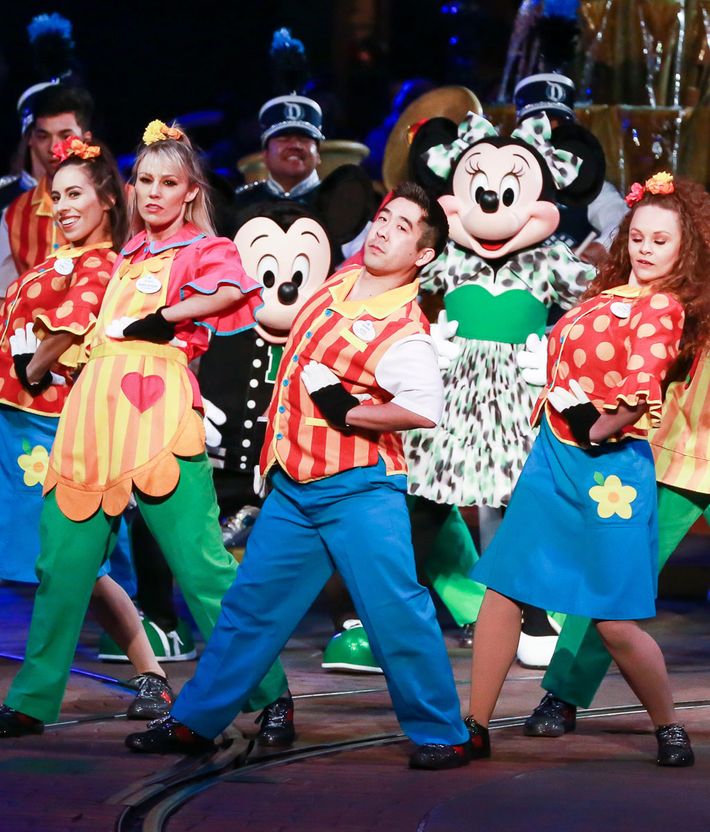 Cartoons, for example, never die. They are notable for their ability to move through time and space with surreal buoyancy. Look around the park: Here is Mickey, as an old-timey brass statue emerging from a fountain in the play-town square. Here he is, on a sweatshirt. Here he is, remixed by Kingdom into a chillscape soundtrack with a swishy beat. If you would like a '70s Mickey, Carol recommends the "Mickey Mouse Disco" record. Her favorite track is Donald's "Macho Man" homage, "Macho Duck". My favorite is "Mousetrap".
During the show, some models have hair hoisted into Mouse-like ears and a Minnie-reminiscent bow. Others have bursting color shades around their eyes. They are quickly forgotten, because when the actual Mickey and Minnie prance down the runaway, all sense of decorum exits Toontown.
Minnie makes a flirtatious stop in front of the seat of an encouraging model, Shaun Ross, who is directly across from me. It takes me a little too long to realize that this means that when Mickey comes to flirt with the audience, he will pause in front of me. I am very cool and react by sticking out my tongue and laughing. It's dignified and certainly my best choice. I am, actually, reminded of Adrienne Rich's "Planetarium": "I am bombarded yet/I stand".