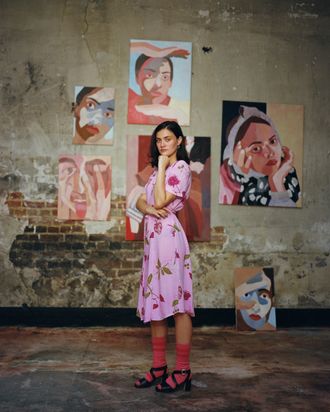 Inès Longevial lives and works in Paris.
Photo: Copyright Fiona Torre
Inès Longevial has been painting women since she was 7 years old. As a child, she painted the women in her family. At 27, the Paris-based artist has developed a distinctly geometric style that's earned her more than 178,000 Instagram followers, and collaborations with Nike, Levi's, Urban Outfitters, and French accessories designer Amélie Pichard, among others. Last month, her first solo exhibition opened in the U.S. at HVW8 Gallery in Los Angeles. This week, her newest collection of paintings will go on display at Gallery M in Toulouse, France, where her works appeared in 2016 for the gallery's first exhibition.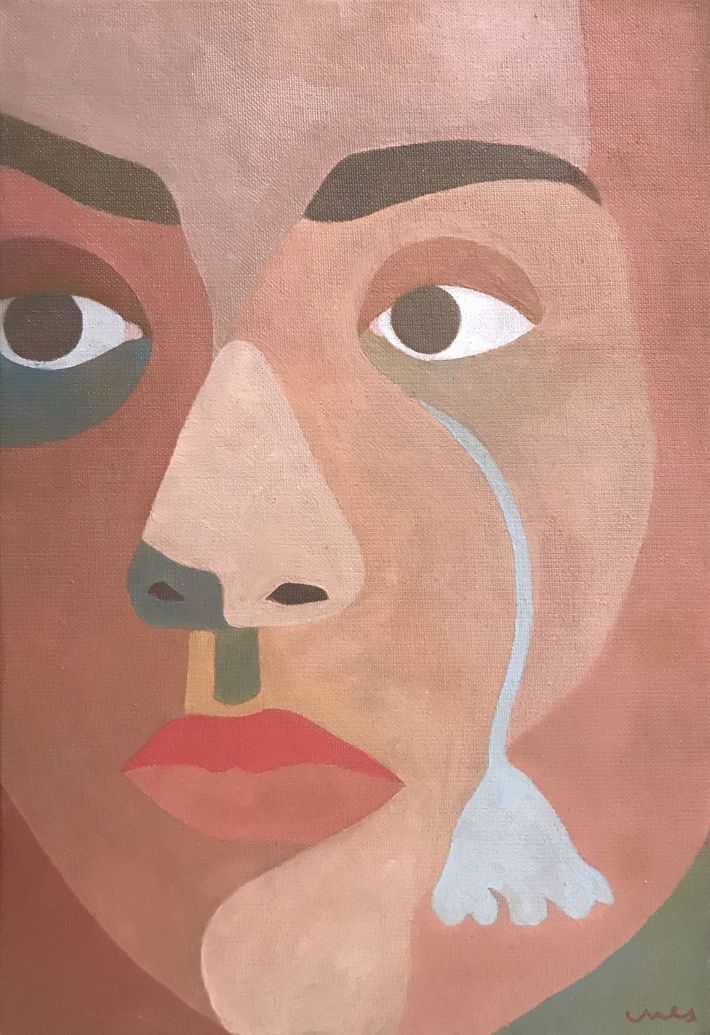 Longevial's show, "Je Pleure Comme Je Ris" (meaning, "I cry as I laugh"), takes its name from the lyrics of "Si Maman Si," a song written by the French singer Michel Berger and sung by France Gall. In this series of paintings, Longevial explores visions of femininity and womanhood by zeroing in on the facial expressions of women. In four of the paintings, tears fall down the pink and brown cheeks of her subjects, leaving behind gray-blue streams that take on the shape of a leafy plant stem. In another, small, fluid brushstrokes depict two red-lipped women whose rosy cheeks and hazelnut locks overlap. "I'm obsessed with these colors," she told the Cut of her soft pink, brown, and blue palette.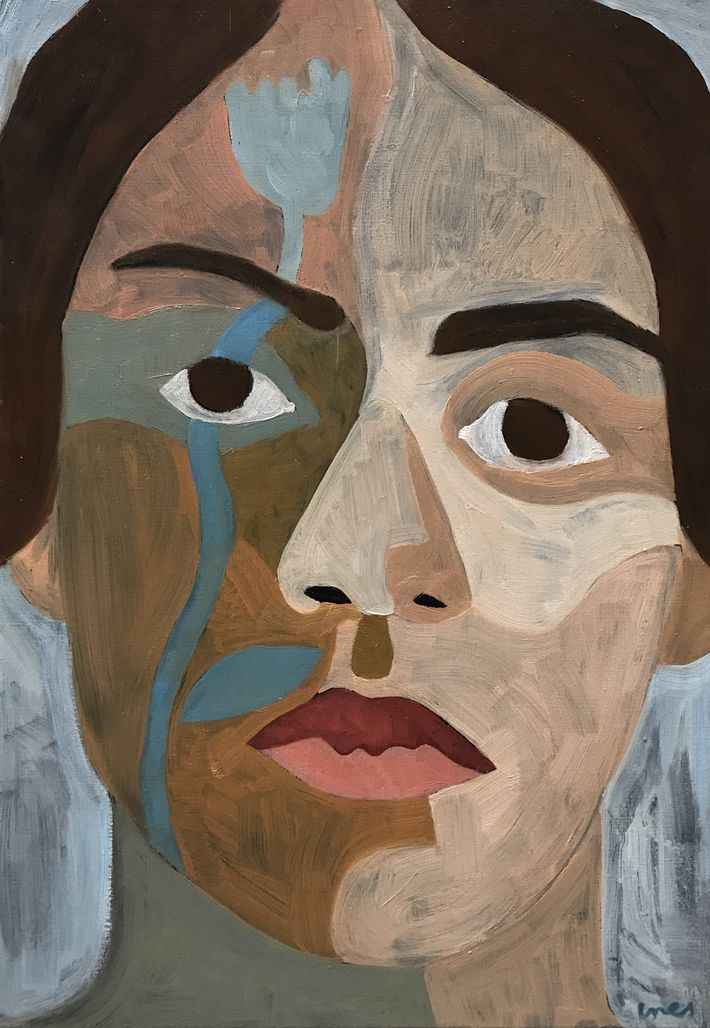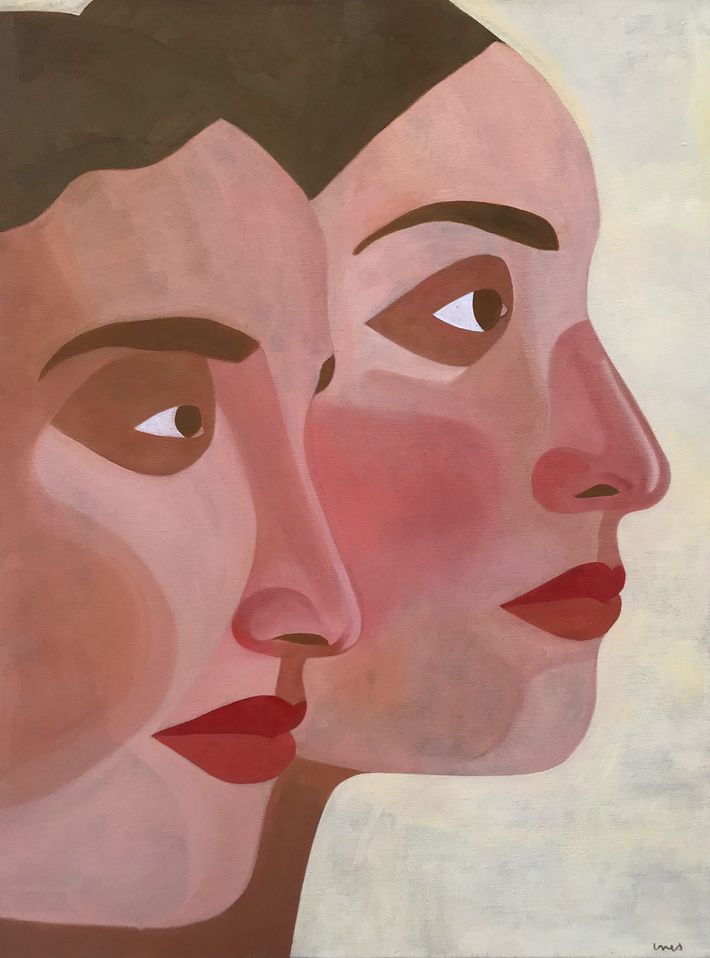 Longevial is influenced by growing up in what she calls a "little house on the prairie" in the southwest of France, where she was surrounded by flowers and lush plant life. Nature and women are "two things that are central to my life," Longevial said. "[They] give strength, but [they] must also be protected. These may be simple notions, but they bring [me] a pride and calm joy that I want to celebrate." She also draws stylistic inspiration from Spanish artists, including Pablo Picasso, and the Spanish filmmaker Pedro Almodóvar.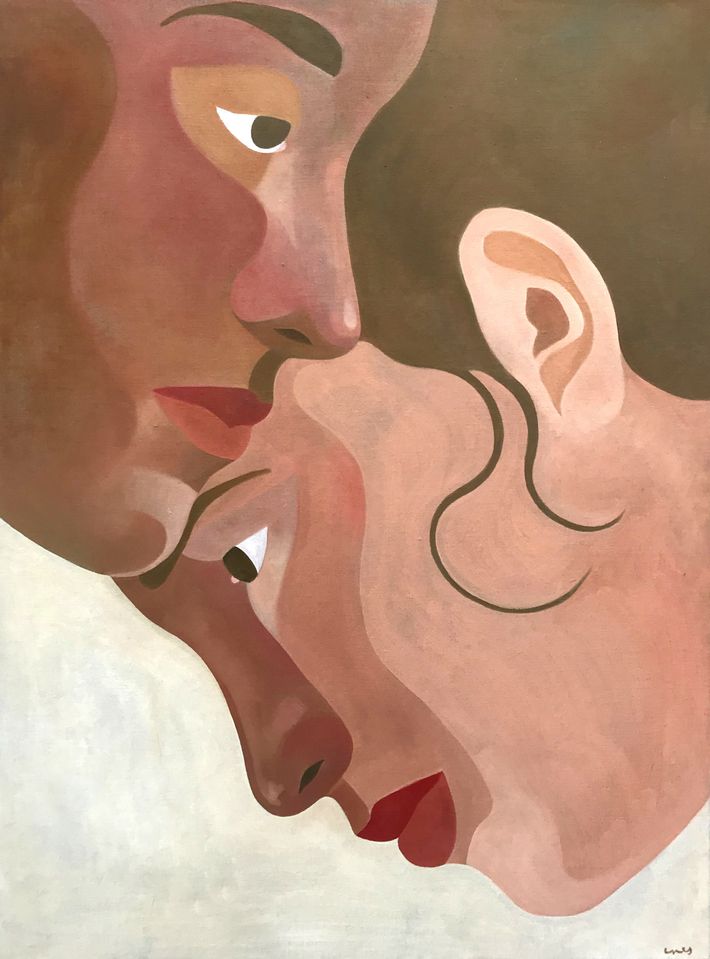 "Je Pleure Comme Je Ris" will remain on display until May 18, 2018.