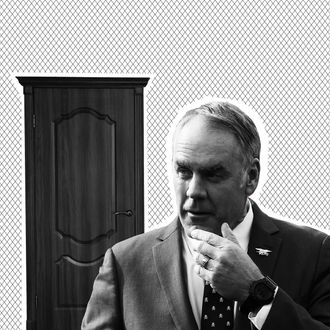 Door and Ryan Zinke.
Photo: Getty Images
Secretary of the Interior Ryan Zinke, who once spent $6,000 in taxpayer money to ride horses with Mike Pence (after dancing with the vice-president's mother-wife), has once again come under fire for a seemingly extravagant purchase: According to records, Interior Department spent about $139,000 last year for an office door.
The Associated Press reports that a work order for $139,000 in construction work at the agency last year was labeled as "Secretary's Door." A spokeswoman for Zinke (who also spent $53,000 on three helicopter rides last year) wouldn't answer questions as to whether any changes had, in fact, been made to a door in his secretary's office. But according to the AP, a man who answered the phone of the Maryland contractor who performed the work — Conquest Solutions LLC — hung up on a reporter when asked about Zinke's office.
The news comes shortly after it was revealed that the Department of Housing and Urban Development had ordered a $31,000 dining set for Zinke's fellow Trump administration staffer, Ben Carson. After the news broke last month, Carson announced that he was trying to cancel the order for the expensive dining set.
Perhaps Carson can save money by just propping up Zinke's (alleged) new door on some old magazines to use as a dining table during his next office dinner party?