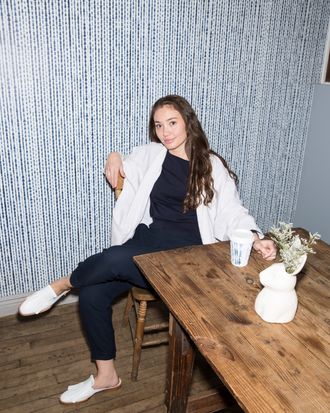 Jenn Tardif wears Clergerie flats at Maman Soho.
Photo: Victoria Stevens. Produced by Biel Parklee.
In Her Shoes is a column about what real women wear when they need to get things done.
Plenty of people daydream about quitting a stressful office job to pursue a more mindful way of life, but Jenn Tardif actually had the guts to do it. The Canada native began her career working in marketing at Behance, a creative start-up that was later acquired by Adobe. She'd always taught yoga and meditation on the side, and one day she decided to make wellness her full-time gig.
Now, Tardif spends her day teaching at Sky Ting Yoga and running her own wellness start-up, 3rd Ritual. Combining Taoist, yogic, and design philosophies, 3rd ritual hosts workshops on everything from painting to aromatherapy. The company also recently introduced its first product, Bel, a meditation candle. Below, she talks to the Cut about how she dresses for a decidedly un-corporate work life.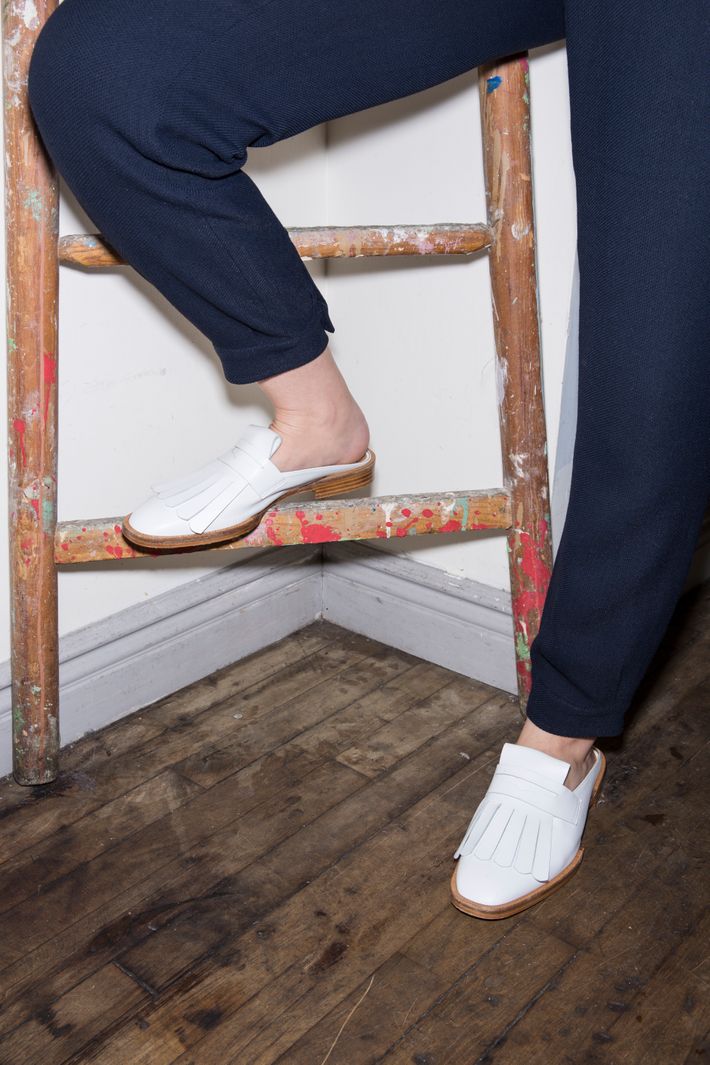 On her changing wardrobe: I spent many years dressing for the office, which was fun when I was younger and eager to prove myself as a professional, but now that I run my own business my priorities have shifted. My goal is to look put together, but more importantly, I strive for a certain ease in whatever I'm wearing, especially because I need to be able to move freely, whether in a yoga class or while working with my hands.
On Mondays: My Monday outfit is layered because it needs to take me from my office in Brooklyn to meetings in Manhattan to teaching yoga at Sky Ting. On colder days I'll just wear Outdoor Voices leggings underneath flowing pants along with a soft tee, kimono jacket, flats, and whatever scent feels best that morning.
On the power of scent: I don't wear a lot of makeup but I do love to change my scent. I use scent as a personal, almost secret way to pay tribute to the mood I'm in. Some of my favorites are Loewe 001, Vetyverio by Dyptique, a custom NOVA blend, and some days I'll just dab a little vetiver or jasmine oil on my wrists and behind my ears, which reminds me to breathe deeply.
On dressing to impress: I'm always conscious of how clothing feels on my skin, so my priority is fabric. In the winter, I wear a lot of wool and cashmere and in the summer, linen and cotton. I'm obsessed with these kimono-like jackets from Duo, which are less structured and more comfortable than a blazer but still have the power to dress up an otherwise simple outfit. When I go out, I like to wear dresses or jumpsuits. I love Veda, Doen, Upstate, and No.6. I like the simplicity of a single garment that can be accessorized.
On warmth and comfort: I split my time between my home office, the yoga studio, and clients' homes so, more often than not, I'm barefoot. When I'm traveling from one to the other I wear a pair of suede Chloé boots with a custom shearling lining that I add to all my winter boots. True to my Canadian roots, I don't mess with cold feet.
On wearing flats: I tend to gravitate to flats that are androgynous — even industrial — by designers like Rachel Comey and Acne because they're so practical in New York. I buy shoes that are at least a half-size larger so that I can add an insert to protect my arches. It sounds silly, but I believe that a balanced body starts with a happy sole.
On her average day: I always try to begin with meditation and a few yoga poses to help ground myself and establish an intention before the to-do list takes over. If it's a workshop week, I'll be running to the flower district, preparing custom aromatherapy blends, or creating a seasonal altar and individual kits for the participants. I always reserve at least two days for teaching (a mix of students, private clients, and new teachers that I mentor at Sky Ting) which includes leading group classes and lecturing on some of my favorite subjects like mythology, scent, and ritual.
Above all, I always try to carve out a few moments of stillness and check in throughout the day on my posture, breath, and mood. It's a work in progress and I'm constantly striving to practice what I preach by staying mindful of my intention — regardless of the task at hand.
If you buy something through our links, New York may earn an affiliate commission.