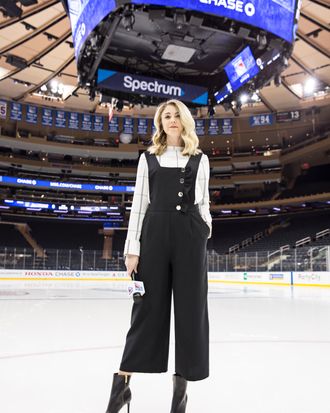 Photo: Victoria Stevens. Produced by Biel Parklee.
In Her Shoes is a column about what real women wear when they need to get things done.
Growing up, Amanda Borges loved to watch hockey with her father, a Queens native and avid New York Rangers fan. Years later, she was living in Jacksonville, Florida, working in sports radio, when the Rangers's digital director asked her to audition for a job as reporter and digital content producer for the team. Borges landed the position and moved up to New York just in time for the 2016–2017 season.
Working for the Rangers means a lot of travel for Borges — often two cities or more per week. When she's in New York, her work schedule is unpredictable: An average day could mean anything from going up to Tarrytown for practice to filming features with team players. On game days, she'll spend the entire day at Madison Square Garden. That's where the Cut caught up with her for a conversation about her job's unique wardrobe requirements.
On dressing for the camera: For game days, my outfits are more professional. I'll wear a dress with tights and boots, or a long-sleeved top with trousers and heels. I keep my blouses and blazers sharp but try to have fun with my shoes. I tend to wear a lot of black so I love to spice things up with colorful earrings or gold hoops. Practice days are much more casual — I'll do jeans and booties with a sweater or even team jacket.
On her desk shoes: I keep just two pairs under my work space: simple black flats and classic pumps. I don't even take them home with me. I never know when I might need them, either for work or after-hours fun. The great thing about having to be camera-ready for my job is that I'm also ready for anything afterward!
On how moving to New York has changed her: Now that I live here, I find myself going for a chic jumpsuit or leather pants. I'm also constantly in heels — which is funny because I was never a big fan of them in the past. I always loved the way they looked, but hated the pain until I switched to block heels and strappy pumps.
On life on the road: We travel to any given city the day before a road game. Professional attire is required on the plane, so I'll wear comfortable dress pants and a blouse with heels. I like to give my skin a break and wear minimal makeup with lots of moisturizer.
On packing for wildly different climates: Being in about two different cities a week, I've become an expert at bringing the bare minimum. I don't have the luxury of packing tons, so I always bring a steamer and I'll repeat items like a blazer or shoes. When we go somewhere cold like Winnipeg or Minnesota, I layer up and wear my game-day boots onto the plane. If the destination is Florida or Arizona, it's trickier — the weather outside may be nice but it's freezing inside the arenas. I'll bring some lighter tops for dinner, but I'm the crazy girl packing a turtleneck for Ft. Lauderdale in March.
On working in a male-dominated industry: I want to be respected for my work and for the professional relationships I've created without drawing too much attention to my clothes. Because of this, I like to dress conservatively. I want to stand out for my content, be it my interviews or game recaps.
On the rare formal event: For our annual Casino Night, which benefits Madison Square Gardens' Garden of Dreams Foundation, I get to be fancy, which is always fun for me. Since it's about players interacting with fans and raising money for a good cause, I like to look classic rather than flashy. This year, I went with a strapless black Monique Lhuillier dress from Rent the Runway and matching pumps.
If you buy something through our links, New York may earn an affiliate commission.