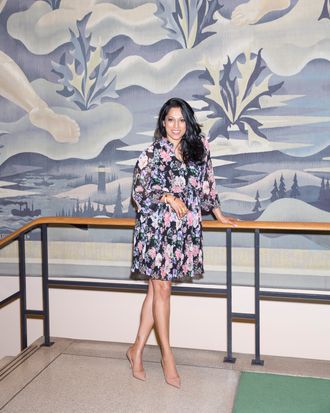 Penny Abeywardena wears Sergio Rossi pumps.
Photo: Victoria Stevens. Produced by Biel Parklee.
In Her Shoes is a column about what real women wear when they need to get things done.
As Commissioner of International Affairs, Penny Abeywardena is New York City's ambassador to the globe. In a city with the largest diplomatic corps in the world, her office connects international and local leaders.
Abeywardena spends her days meeting with everyone from U.N. officials to students in her office's NYC Junior Ambassadors program. Since taking office four years ago, she's been able to facilitate initiatives like Global Vision|Urban Action — a program that shares NYC's innovations in sustainability with cities and countries around the world using the lens of the U.N.'s Sustainable Development Goals, which were adopted in 2015 to combat poverty, inequality, and climate change.
The child of Sri Lankan immigrants, Abeywardena studied political science at the University of Southern California, then moved to New York to get a master's degree at Columbia University. She's worked for the Human Rights Watch and most recently served as the Director of Girls and Women Integration at the Clinton Global Initiative. Below, she speaks to the Cut about dressing for diplomacy, the challenges of being a woman of color in public service, and the joy of a good shoe rack.
On the changing face of diplomacy: I'm incredibly blessed to be NYC's representative to the international community, so I show up representing both my personal style and professional perspective. I'm proud of my Sri Lankan heritage and it's humbling to be part of a new generation of diplomats. There are more women representing their countries than ever before and they're not just wearing stuffy gray or black suits with ties. You'll see brightly colored head scarves, saris, and other national dress that showcases our point of view.
On power dressing: I dress for myself but really it's about representation and authenticity. I'm very aware — especially as a woman of color — that in most meetings I'm one of the younger people in the room. I'm also one of the only women. I show up with substance but it's also important that I show up with style because the two aren't mutually exclusive.
On dressing for long days: Every morning I hit the ground running, whether it's chasing after my 21-month-old son before breakfast or walking him to daycare. My go-to Monday outfit is skinny pants, a tank or blouse, a blazer plus a good blowout. For days that require evening events, I choose clothes that can transition with a shoe change and lipstick. I love a black jumpsuit with blazer and then I'll swap in a shawl or coat with heels. It's perfect and — most importantly for a working mom — easy.
On her favorite heels: My go-to heels are a pair of Zara two-toned shoes that literally go with everything, or my faux-snakeskin Jimmy Choos which I bought about a decade ago while I was on assignment in Paris. Those heels have been part of my incredible professional ride.
On her shoe collection at the office: I have a shoe rack at my desk that can hold 12 pairs and I'm pretty sure it's full. I have something for every occasion as my schedule can sometimes change quickly. It ranges from bright and patterned heels to flats to flip flops. Currently I've got a selection that includes J.Crew, Cole Haan, Zara, and of course, the Adidas for commuting!
On the infamous sidewalk shoe switch: Even though I was raised in Los Angeles, I know that I'm a true New Yorker because of my commitment to looking good while on the go. This means that I have zero qualms about standing on a street corner and switching out my summer sandals or winter boots for the heels that go best with my outfit. In fact, my husband knows the choreography without my even asking — he holds out his arm for me to balance while I make the switch.
Penny Abeywardena wears Sergio Rossi pumps.