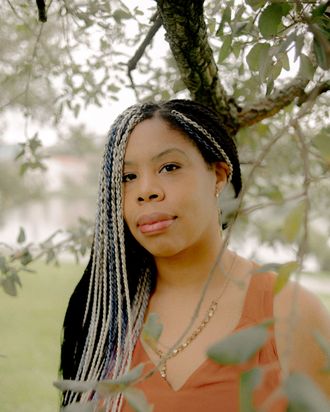 Erica Joy Baker.
Photo: Amy Harrity
Since the #MeToo movement, we're all rethinking what it means to be a woman in the world, but what about what it means to be a woman online? This month, WNYC's Note to Self and The Cut are collaborating on a project to explore this question. Together, we have created a special series of podcasts and portraits for you called No Filter: Women Owning It Online.
Over the course of a week, we will talk to women of various ages and backgrounds about how they use the web to curate versions of themselves, question cultural standards, and be heard. Artist Barbara Kruger, age 73, has a very different take on what female "empowerment" looks like compared to 21 year-old YouTube megastar Lele Pons. Neither claims to have it right or wrong; both explanations are fascinating.
For many of us, the internet can be a roller-coaster ride of connection and solidarity but also doubt and rejection. Balancing the wonderful with the trollful is a daily feat. Add in posing and "performing" on Instagram to get personal validation, and you can end up feeling pretty neurotic anytime you log on.
But there are those who have found a sweet spot: actor Trace Lysette of Transparent has mastered the political sexy selfie. She is also one of the reasons why Jeffrey Tambor won't be returning to the show. CNN's Christiane Amanpour, at 60, just replaced Charlie Rose on PBS and is very clear about what she'll share on social media and what she definitely won't. (Christiane and I also debate whether or not we — as half-Iranian people — qualify as "women of color.") Amy Sherald painted Michelle Obama's recently unveiled official portrait and talks about dealing with the haters who weren't happy to see Michelle painted in gray-scale. She also talks about having a heart transplant and why, at 44, she feels like a late bloomer.
How and why we choose to portray ourselves online is a complex issue. There are no easy explanations or answers, especially since the rise of #MeToo. How do we reconcile the fact that social media acts as both a megaphone and a tool for objectification for women? It's worth acknowledging that The Cut was the first to publish #MeToo allegations against WNYC, which produces Note to Self. Is it ironic that we are partnering to do a series about women owning it online? Kind of. But I also think it's indicative of a new kind of consensus among women that supporting each other in these nuanced conversations takes precedence over competitive jockeying for eyeballs and ears.
So I hope you'll listen and look at No Filter. And tell us how you navigate the web. Because we are all figuring this out together.
Episode One, "Why We Need No Filter": Erica Joy Baker talks to Manoush Zomorodi about what it's like to be a woman of color in tech.