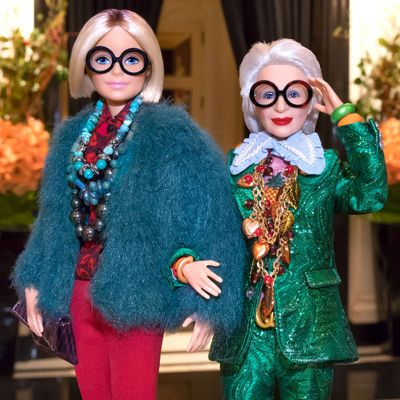 Iris Apfel Barbie.
Photo: Mattel
Last week, the world was introduced to Frida Kahlo Barbie, which some people weren't too happy about. But this week, Mattel revealed a doll we can all get behind: one inspired by Iris Apfel, the 96-year-old "rare bird" and style icon.
On Wednesday, Apfel's likeness was revealed. It looks exactly as stylish as you'd expect. In fact, she's maybe the most stylish Barbie ever. Iris Apfel Barbie wears a green Gucci suit with a ruffled blue collar, plus a pile of accessories and her now-signature round-frame glasses.
Unfortunately, Iris Apfel Barbie is one of a kind. (Same as Iris Apfel herself.) But if you'd like to dress your regular degular Barbie just like her, that will soon be an option. This fall, Barbie will release a "Styled By" Barbie, complete with glasses and necklaces from Apfel's own Rara Avis collection. In a photo taken "at the Carlyle Hotel" (one of Apfel's haunts), Barbie even sports a new, short bob haircut to fit the profile.
Iris Apfel Barbie, meanwhile, flaunts a snow-white hairdo and a baby-smooth face. She doesn't look a day over whatever 96 is in Barbie years.