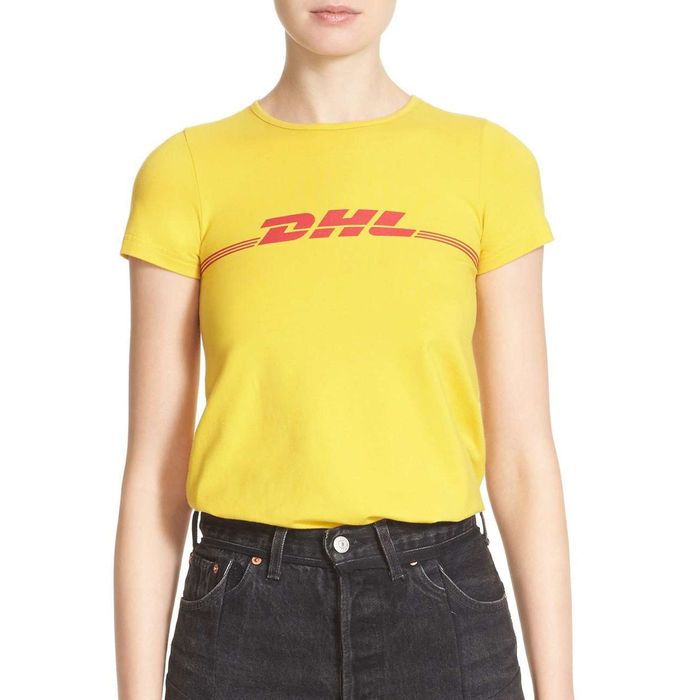 Remember how cool it was when Vetements' DHL shirt made its runway debut? The year 2015 was a much simpler time, when a high-fashion shirt with the delivery service's logo printed on it set the world spinning. The brand behind the subversive shirt, and its designer Demna Gvasalia were suddenly catapulted into star status … among the street-style set. People and publications were equal parts enamored and horrified at the designs and their astronomical price tags. Highsnobiety reported that the bubble had popped, but one day later, WWD published that it's still going strong.
Highsnobiety's article relied on testimony from anonymous buyers, former Vetements employees, and sales associates who all said that sales were down for the Zurich-based brand. One said, "From a retail standpoint, Vetements is completely dead. Over the course of two seasons no one is even looking at it. Sales have dropped dramatically to the point where you are now seeing Vetements on sale on various outlets at 60-70% off."
Others have also noticed that Vetements clothing is being frequently marked down to over 50 percent off. Quartz reporter Marc Bain tweeted last month that Gvasalia himself had said that markdowns were an indication of overproduction, which is something that seems to be happening more and more to his own label. The brand also opted out of Fashion Week last season, but most assumed that was because Gvasalia was just over it.
WWD's counterargument included statements from execs at luxury stores in New York and L.A., including Saks, the Webster, and Harrods. The chief merchant at the high-end British department store said it was "flying out of Harrods." One WWD source vouched for its flexibility, saying they had had pared down their signature, oversized shapes in order to meet consumer demand.
And then came the statement from Vetements CEO Guram Gvasalia. He went so far as to call the story "fake news" and suggested the original report was fueled by the writer's ego. He also offered the more concrete assertion that Vetements had been "outperforming" this year and seen 50 percent growth in comparison to the previous year.
"Sadly some journalists today are more concerned with writing fake news and reposting shocking headlines rather than checking facts to show the full picture," he said. "It is especially upsetting to see some fashion writers, fueled by their personal agendas, attacking young independent brands while sucking up to big conglomerates for their advertisement budgets."
So are they in trouble or not? Of course the CEO is going to paint a cheery picture no matter what. If they are struggling, it signals that fashion is moving even more quickly than previously estimated. Or, maybe the appetite for expensive fashion that makes you think who would buy this? is waning. If they aren't, well, long live the graphic tee.
This story has been updated throughout.