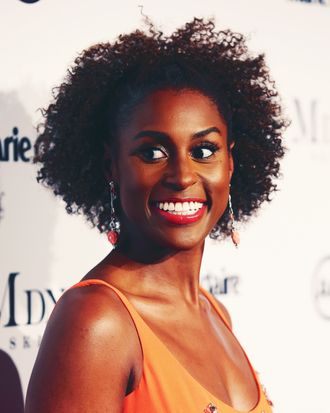 Issa Rae.
Photo: Phillip Faraone/Getty Images
It's not often that those outside the fashion world are given reason to get excited about the CFDA Awards. But on Monday, the Council of Fashion Designers of America announced that actress Issa Rae would be this year's host. Needless to say, we're stoked.
Rae is the first female to host the CFDA Awards in several years. (Last year, it was presided over by Seth Meyers.) But here's another shocker: the ceremony will take place in Brooklyn for the first time ever. Save the date for June 4 at the Brooklyn Museum. Nominees will be announced prior on March 15.
"Issa Rae is leading a new generation of performers who use their voice and humor to discuss social topics in a way that is relatable and poignant," said CFDA president and CEO Steven Kolb in a release. "We are also excited to take the awards to Brooklyn this year. The Brooklyn Museum is a strong and iconic backdrop to one of fashion's biggest nights."
Rae has made a name for herself as the face and mind behind Insecure, but she's also got personal style as well. On the Emmys red carpet this year, for example, she wore the red version of a Vera Wang wedding dress, winning our hearts instantly. And more recently, she wore a yellow Pyer Moss turtleneck dress straight off the fall 2018 runway to the A Wrinkle In Time premiere. Not only does Rae have good taste, but she's also aware of young, emerging talent. In other words, she's the perfect woman for the job.